Britain's Blair Says Iraq Is No Vietnam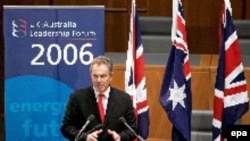 Tony Blair addressing Australia's parliament on March 27 (epa) March 29, 2006 -- British Prime Minister Tony Blair has said Iraq is no Vietnam, insisting that British troops will stay there until insurgents are defeated and democracy prevails.
Blair told Radio New Zealand that the circumstances were completely different from Vietnam, where U.S. forces were defeated by communist North Vietnam and withdrew in the early 1970s.
He added that it would be "tragic and irresponsible" to walk away from Iraq, insisting that the Iraqi people want democracy.
In Australia on March 27, the British prime minister called for a global alliance to protect "global values" like justice and freedom, saying the "immediate threat is from Islamist extremism."
Blair is due in Indonesia later today.
(dpa)