According to preliminary results, the Party of Regions, led by former pro-Russian presidential candidate Viktor Yanukovych, won the most votes in the March 26 parliamentary elections. The party of Yushchenko's former Orange Revolution ally Yuliya Tymoshenko came in second, followed by Yushchenko's own Our Ukraine bloc.
Yushchenko and Tymoshenko, however, had more combined votes than Yanukovych and could rule together, if they overcome their differences.
The Our Ukraine leadership meeting on March 28 said the new government must be a "coalition of democratic forces."
Yushchenko held consultations with both Yanukovych and Tymoshenko on March 28. After the talks, Tymoshenko said she and the president had "a common vision for Ukraine's future." Yushchenko's office said the consultations with both party leaders were "preliminary."
(compiled from agency reports)
Torn Between East And West
Torn Between East And West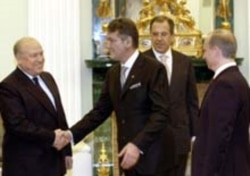 Yushchenko (center) with Russian Ambassador to Ukraine Viktor Chernomyrdin (left), Russian Foreign Minister Sergei Lavrov (rear), and Russian President Vladimir Putin (AFP file photo)
IN WHOSE ORBIT? Just over a year ago, tens of thousands of Ukrainians led an extended public uprising that toppled the country's entrenched, pro-Russia regime. But the country remains deeply divided between the east, where ethnic Russians look toward Moscow, and the west, which yearns for deeper integration with Europe. Can Ukraine elect a legislature that represents this torn country? (more)
See also:
Moscow Silent In The Run-Up To Ukraine's Elections
Is Kyiv On Stable Path Toward Integration With World Economy?
Western Neighbors Keen To Help Transition To Democracy

Click on the image for background and archived articles about Ukraine's March 26 elections.




Click on the image to see RFE/RL's coverage of the Ukrainian elections in Ukrainian.