PRAGUE, March 29, 2006 (RFE/RL) -- It took security forces some three hours to quell the riot at Tbilisi's Prison No. 5.
The operation involved hundreds of heavily armed police officers and prison wardens. Seven inmates died in the unrest and another 22 were wounded. Twelve security officers were injured.
Georgian officials spoke out against the unrest -- and praised the security forces for their resolution of the incident.
Parliament speaker Nino Burjanadze told lawmakers on March 27 the attempted jailbreak was part of a broader scheme to spread chaos across Georgia. She also said the aborted riot and an alleged armed attack that damaged a major power supply line in Georgia's northwest the night before were "two links of the same chain."
"A very serious attempt at destabilizing the situation in the country is under way. Very serious forces are at work within the country to trigger instability," Burjanadze said.
To an opposition legislator who was inquiring why the Justice Ministry had failed to prevent a riot it says it knew was in the offing, Burjanadze bluntly replied: "I am very surprised that you're not saying anything about what happened this morning at three o'clock, when the entire city of Tbilisi, when each of us and each of our children was facing the prospect of seeing 4,000 prisoners suspected of serious crimes ending up in the city."
Defense Minister Irakli Okruashvili gave an even more serious assessment, claiming the planned jailbreak involved up to 6,000 inmates. He praised the security forces for averting a "catastrophe."
Addressing an emergency Security Council meeting on March 27, Georgian President Mikheil Saakashvili asserted that the unrest was aimed at undermining his government's efforts to restore law and order in the country. Saakashvili also hinted at purported ties between his political opponents and criminal bosses, whom he pledged to continue fighting.
"[Criminal bosses] have in recent weeks enjoyed the support of forces speaking from television screens, from the parliament's rostrum, and in the streets where Georgian police are being constantly vilified, whereas the police have the trust and support of society," Saakashvili said. "Obviously, [these people] must have thought this was the right time to act. They think we are weak and afraid of them. But all these bandits, robbers, thieves, and other scum are wrong. They're dealing with a different government now."
The following day, the opposition attempted to make the overwhelmingly pro-Saakashvili parliament investigate the prison unrest. However, the initiative failed, with pro-government lawmakers accusing their political foes of "patronizing criminals."
Government Under Fire
Confronted with mounting domestic criticism, the Georgian authorities have hardened their stance in recent weeks.
Recent street rallies have attracted thousands of demonstrators into the streets of Tbilisi and other Georgian cities to protest new trade regulations and increasing police violence.
Opposition leaders have backed traders' demands that the government rescind a decision to make cash registers mandatory in all marketplaces. And rights campaigners have demanded that Interior Minister Vano Merabishvili resign over the recent killing of a bank employee. Several police officials have been charged with the murder.
Government officials have stood firm on both issues. They have responded to opposition complaints, accusing their leaders of manipulating society with a view to protecting their purported mercantile interests.
The mayor of Tbilisi and several pro-government lawmakers earlier this month publicly blamed an opposition legislator for an overnight firethat partially destroyed a school. They claim the legislator owns shares in a company that could benefit from reconstruction work.
All opposition parties have denied those charges. They have accused the authorities in turn of exerting "political terror" on their adversaries.
'Security Risks'
Another accusation brought by the government against its critics is that they are putting Georgia's stability and interests at risk.
Presidential administration chief Giorgi Arveladze said on March 17 that recent street rallies played into hostile foreign hands. He also warned that the time of dialogue with the opposition was nearing an end.
"Those people are serving oligarchic and sometimes -- unfortunately -- criminal interests. Sometimes also, those protest actions are being staged with the sole purpose of being broadcast and commented upon on Russian television. But we will not be drawn into televised battles. The government has already commented on all important issues and we have other things to do," Arveladze said.
Claims that purported ill-wishers both inside and outside the country are looking forward to witnessing Georgia's collapse have been a recurrent feature of Saakashvili's political discourse -- especially in times of crisis.
In this respect, this week's events were no exception to the rule.
Less than 24 hours after the prison riot was quelled, the Interior Ministry announced the arrest of a presidential administration official suspected of spying on Georgia at the behest of an unspecified foreign country.
Commenting on the arrest, which was broadcast on all main television channels, Saakashvili claimed an entire network of spies was at work in the country: "Georgia is no longer a mere territory. Georgia is now a state, with its own [national] interests and security. Unfortunately, this state also has ill-wishers who want to destroy it completely and bring it to its knees."
Saakashvili said he would give alleged spies until May 1 to surrender in return for an amnesty.
"Those people should know that they're not working against a specific government, or president, but against their own country, against their children, and for the benefit of our opponents," he added.
Tbilisi Prison Unrest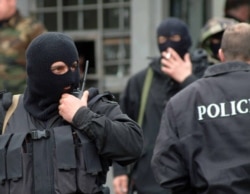 Georgian police outside the Tbilisi prison on March 27 (Interpressnews)
CALLS FOR AN INVESTIGATION: The head of the Justice Ministry's department for administering prisons, BACHO AKHALAYA, is at the center of the disputed March 27 prison incident.
Top Georgian officials, including President Mikheil Saakashvili and parliament speaker Nino Burdjanadze, were swift to commend the police action as having prevented the destabilization that, according to Saakashvili, would inevitably have followed the escape of thousands of prisoners.
But Levan Samushia, a lawyer for one of the prisoners injured during the fracas, told journalists on March 28 that the official claims of a riot by armed prisoners were untrue, Caucasus Press reported. And the 45 NGOs grouped under the umbrella organization Civil Society for a Democratic Georgia issued a statement questioning the official version of what happened and calling for an "independent and fair" investigation.
On March 27, Anna Dolidze of the Georgian Young Lawyers' Association raised a series of questions at a Tbilisi press conference, including why police used live ammunition instead of rubber bullets and tear gas to put down the supposed insurrection. Elena Tevdoradze, chairwoman of the parliament human rights committee, who was at the prison during when the riot supposedly took place, said one of the prisoners killed, an Ossetian, was shot in the back after the riot was quashed, Caucasus Press reported on March 29.
Perhaps the biggest unanswered question concerns the role of Akhalaya, who, like Tevdoradze, was in the prison at the time of the disturbance. "Alia "on March 28 quoted prisoners as saying that Akhalaya, accompanied by special police and allegedly either drunk or high on drugs, forced his way into the prison hospital and began insulting and beating prisoners. Lawyer Kakha Kvistiani said on March 27 that Akhalaya assaulted and seriously injured his client, Giorgi Avaliani, who has been refused medical treatment for those injuries.
Tevdoradze told the parliament bureau on March 27 that she was summoned to the prison by a telephone call from an inmate who claimed prisoners were being beaten in the prison hospital, but did not mention Akhalaya. She quoted that prisoner as saying "We are afraid they will start shooting, please defend us." She said when she arrived, Interior Minister Vano Merabishvili was there and "very agitated." Tevdoradze confirmed that Akhalaya was there, but she said he was not drunk.
Akhalaya is said to have provoked protests at a penal colony in Rustavi two months ago by similarly turning up in the small hours of the morning and ill-treating inmates, insisting they strip naked and run around outdoors in sub-zero temperatures. When they protested, Akhalaya called in special forces troops, who fired rubber bullets to restore order, ombudsman Subar later told journalists.On March 20, the newspaper "Khronika" quoted lawyer Lali Aptsiauri as saying Akhalaya personally participated in the beating of several prisoners, one of them her client, at prison No.7. And on March 24, NGOs demonstrated outside the Justice Ministry -- not for the first time -- to demand Akhalaya's resignation.
Piecing together the official version of events, Tevdoradze's comments, and those by lawyers for surviving prisoners, it seems possible, even plausible, that Akhalaya may have incited a protest by at least some prisoners. Nonetheless, on March 28 the Georgian parliament rejected opposition calls to investigate the incident. (Liz Fuller)
See also:
Georgia: Government, Opposition Squabble Over Interior Minister
'Culture Of Impunity' Blamed For Torture And Other Police Abuses