Del Ponte In Serbia To Call For Mladic's Arrest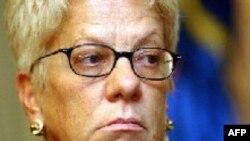 Tribunal chief Carla Del Ponte (file photo) (AFP) March 29, 2006 -- The chief prosecutor for the UN war crimes tribunal has arrived in the Serbian capital Belgrade to urge Serbs to do more to capture a leading suspected war criminal.
Prosecutor Carla del Ponte is calling on Serbs to capture Ratko Mladic, a former Bosnian-Serb military commander who is charged with genocide for crimes committed during the Bosnian war.
The European Union is threatening to break off talks with Belgrade soon if Mladic is not captured and turned into The Hague.
But Serbian officials today said the international community should do more to understand what they called the country's complex political situation.
Del Ponte's visit comes just days before she is due to report to the EU on how well Serbia is cooperating with the tribunal.
(Reuters)


SUBSCRIBE
For a regular review of politics, media, and RFE/RL broadcasts in the western Balkans,
subscribe to "RFE/RL Balkan Report."