SALZBURG, March 30, 2006 (RFE/RL) -- The issue of the vulnerability of U.S. ports to international terrorist groups prompted headlines recently when it became known that a Dubai-based company might gain control over the management of cargo terminals at six key U.S. ports, including New York and Miami. RFE/RL asked Beardsworth what the U.S. government is doing to prevent terrorist infiltration through its waterways.
According to Beardsworth, the United States has created a number of new programs to increase the scrutiny of goods entering U.S. ports. "We have the ability to screen every container that's coming into the United States because now we get information on those containers earlier," he said. "We're able to do a computerized screening on the containers to see which ones might be at risk. We have a number of layered defenses with respect to cargo."
The emphasis of the programs is on prevention. U.S. port officials try to rule out threats before the containers arrive in U.S. waters. Working with officials in international ports, U.S. officials inspect some containers before they have even set sail for the United States. As a result, U.S. port officials physically inspect fewer than 5 percent of the cargos that arrive in the country.
Security officials' emphasis on prevention is similar at U.S. airports. Even before a plane has taken off from a foreign airport, Beardsworth says U.S. customs and immigration officials already have a good idea of who's on board.
"As people travel to the United States, on commercial airlines for example, we know through the advance passenger information system who's on that airplane, shortly after the plane takes off," he said. "And we're able to look at those names and passport numbers and to see if there's anyone that we're particularly concerned about."
Mistakes Are Made
The reliability of this system has been questioned, particularly by people who have been turned away after they have arrived on U.S. soil. For example, in July 2005 Sheikh Zaki Badawi, a progressive Muslim leader from London, was refused entry into the United States upon arrival at New York's Kennedy Airport, having already been issued a visa. Badawi later accepted an apology from the U.S. government for denying him entry.
Beardsworth acknowledged that mistakes are occasionally made, but in many cases, he argued that the media reports of people being turned away are not complete.
"Oftentimes, when somebody is denied entry, there actually may be some reasons that they're denied entry that aren't readily apparent, and we're not going to disclose publicly, certainly on a particular individual," he said. "The vast majority of people that are denied entry into the United States are not because of terrorism-related reasons but because of criminal-related reasons or the fact that they may be deemed to be an intending migrant without an appropriate immigrant visa."
Porous Border With Mexico
The United States is also in the process of tightening its porous southern border through which tens of thousands of illegal immigrants enter annually. According to Beardsworth, the United States lacks sufficient space in detention centers to hold illegal immigrants until they can be returned to their home countries.
As a result, local police often have no alternative but to release illegal immigrants with a summons to appear in court at a later date for a deportation hearing. Not surprisingly, they often disappear -- sometimes by moving to another U.S. city, where they can effortlessly blend into a large ethnic community of their compatriots.
The solution to this problem, according to Beardsworth, has been greater cooperation with Latin American and other countries, to allow for quicker deportations of illegal immigrants back to their home countries.
"We've found in this process, for example, that one of the biggest impediments to moving people through the removal system quickly was the fact that countries were slow to issue travel documents to take their people back," he said.
"So we worked very carefully with the countries of Central America and Latin America and now were working very carefully and closely with China to try to decrease that cycle time so that as we interdict people on the southern border," he continued. "We can put them into detention until we remove them some few days later rather than weeks or months later."
Beardsworth considers the overall U.S. security effort a success, noting that the United States has not experienced any new terrorist attacks in the past 4 1/2 years.
Exclusive Interview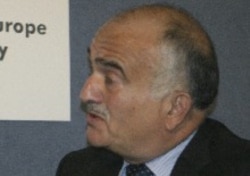 HIS ROYAL HIGHNESS PRINCE EL HASSAN BIN TALAL
of Jordan spoke to RFE/RL on 10 October, sharing his thoughts on the potential of Iraqi violence to destabilize other countries in the Middle East, including Jordan. For the complete interview,
click here.