WASHINGTON, 20 January 2006 (RFE/RL) -- Osama bin Laden dismissed repeated assertions by the administration of U.S. President George W. Bush that its security policies have deterred Al-Qaeda violence in the United States since the attacks of 11 September 2001. In fact, he says, more attacks are being planned.
"The delay in similar operations happening in America has not been because of failure to break through your security measures. But the operations are happening in Baghdad and you will see them at home the minute they are through [with preparations], with God's permission," bin Laden said on the audiotape broadcast by Al-Jazeera.
There was no way to determine whether an attack was imminent. Intelligence agencies reportedly have seen no increase in communications among militants indicating that, and the DHS is keeping the threat level at "elevated" on a five-tier scale ranging from "low" to "severe."
"'We'll not come after you if you guys just back off and retreat. In fact, do the same thing we've seen you do so many times before.' And that is from a man who understands our history and our weaknesses." -- analyst
Bin Laden accompanied his threat with an offer of a truce with the United States. "We do not mind offering you a long-term truce with fair conditions that we adhere to," the voice believed to be bin Laden said. "We are a [religious] community that God has forbidden to lie and cheat. So both sides can enjoy security and stability under this truce so we can build Iraq and Afghanistan, which have been destroyed in this war."
A cease-fire would deprive what bin Laden called the "merchants of war in America" of the profits they've made from the conflict.
White House spokesman Scott McClellan rejected the truce offer. "We do not negotiate with terrorists, we put them out of business," he said. "The terrorists started this war, and the president made it clear that we will end it at a time and place of our choosing. We continue to pursue all those who seek to do harm to the American people, and to bring them to justice."
The tape was first broadcast on 19 January by the Arabic-language television network Al-Jazeera. The CIA authenticated bin Laden's voice within hours.
A question that remains is when the tape was made. Al-Jazeera said it was recorded in the Muslim month that corresponds to December. Some experts believe the message was recorded some time after late November because bin Laden referred to a British newspaper report about alleged U.S. plans to bomb the headquarters of Al-Jazeera in Qatar.
In any case, it probably was made before the 13 January U.S. attack on the Pakistani village of Damadola, near the Afghan border, which is reported to have killed 13 to 18 residents, including women and children.
The target of the raid -- carried out by a remote-controlled drone aircraft -- was Ayman al-Zawahri, bin Laden's most trusted associate and his second in command. Al-Zawahri was evidently not present when the attack took place, but Pakistani officials say three other senior Al-Qaeda officials were killed.
They include explosives expert Midhat Mursi al-Sayid Umar; Abdul Rehman al-Maghribi, al-Zawahri's son-in-law who served as Al-Qaeda's publicist; and Khalid Habib, who directed Al-Qaeda's operations in Afghanistan.
The deaths of these three men have yet to be confirmed. DNA tests will be conducted to determine their identity, but even in the best circumstances, such tests can take weeks.
Their loss would be a serious blow to any plans bin Laden may have to mount new attacks on the United States or elsewhere in the West, according to retired Colonel Kenneth Allard, who served in U.S. Army intelligence in Europe during the Cold War.
Bush's critics often have dismissed his claims of success in killing or capturing senior Al-Qaeda officials. They say these men can be easily replaced from among a host of men who share bin Laden's ideology. But Allard told RFE/RL that filling these empty positions can, in fact, be very difficult.
"You realize there are two things," Allard said. "One is the technical issue: Does the guy have the skills? And number two: Can we trust him? One of the things you also look for in that whole form of warfare is: Has this guy been had? Has he sold out to the opposition? Part of the reason why the Islamic movement is as good as it is because they have got fairly high ideological standards. That helps the trust issue. But you can still get to [compromise] anybody, I don't care who they are."
Allard is equally dismissive of the tape's offer of a truce. But he said this shows not only weakness in Al-Qaeda, but also in U.S. policy. "It's a simple extortion plea more than anything else," he said. "'We'll not come after you if you guys just back off and retreat. In fact, do the same thing we've seen you do so many times before.' And that is from a man who understands our history and our weaknesses."
Since the Vietnam War, Allard said, the United States has lacked the determination to follow through on military matters, at least in part because of popular distaste for protracted warfare.
In fact, bin Laden made reference to a drop in U.S. President George W. Bush's approval rating in opinion polls last year that were linked to frustrations over the war in Iraq.
"I have been encouraged to undertake the mission of this speech by your [U.S.] president's repeated misinterpretations in commenting on public opinion polls in your country," bin Laden said. "The polls have shown that the vast majority of you support the withdrawal of your forces from Iraq. But he objected to this desire and said the withdrawal of troops would give the wrong message to the enemy."
Allard said that ever since the 11 September attacks, the Bush administration has reminded the American people that the war against Islamic militants will be long and hard.
Yet Bush followed that warning by merely urging his people not to fear air transport and to help revitalize the U.S. economy by resuming travel around the country. He also got Congress to approve generous tax cuts, also in an effort to help the economy.
Instead, Allard said, Bush should have mobilized the American people to face the Al-Qaeda threat by raising taxes to field a larger and better-trained army. By not doing so, he said, the president has lost much of the national support he needs to win this war.
(RFE/RL correspondent Robert McMahon contributed to this report.)
Who Is Ayman al-Zawahri?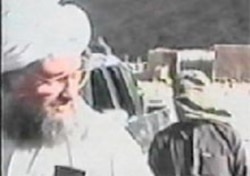 AYMAN AL-ZAWAHRI is regarded as Al-Qaeda's No. 2 authority. Although al-Zawahri is lesser known than Osama bin Laden, some observers say the deputy is just as powerful as the chief....(more)
See also:
Is Al-Qaeda Letter Sign Of Rift, Or Opportunity For Bush?