Georgia Says Russian Base Deals Near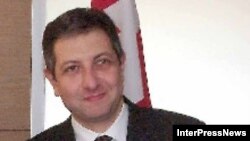 Prime Minister Zurab Noghaideli (file photo) (InterPressNews) March 30, 2006 -- Georgian Prime Minister Zurab Noghaideli says bilateral agreements setting a timeframe and modalities for the withdrawal of Russian troops would be signed on March 31.
Noghaideli made the announcement today at the end of a cabinet meeting in Tbilisi.
He said the two agreements would be signed in the Russian Black Sea resort of Sochi. There was no immediate confirmation from Russia.
Georgian Foreign Minister Gela Bezhuashvili said no details would be made public until the agreements are signed.
Russia on May 30, 2005, said it would vacate the two former Soviet military bases it retains in Georgia by the end of 2008. But no formal agreement was signed.
Russia is considering transferring part of its military hardware to neighboring Armenia.
(Novosti-Gruziya, Prime News)

SUBSCRIBE For weekly news and in-depth analysis on Armenia, Azerbaijan, Georgia, and Russia's North Caucasus by e-mail,
subscribe to "RFE/RL Caucasus Report."