Tymoshenko Rules Out Coalition With Pro-Russian Party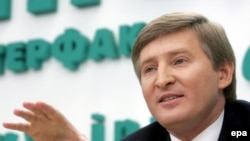 Party of Regions official Rynat Akhmetov told journalists in Kyiv today that his party is willing to join a coalition government (epa) March 30, 2006 -- Former Prime Minister Yuliya Tymoshenko today once again ruled out joining a new Ukraine government that would also include the pro-Russian Party of Regions.
She said any coalition with the Party of Regions led by Viktor Yanukovych, another former prime minister, was a "threat" to Ukraine:
"Any unions or alliances by democratic forces with the Party of Regions are immoral and harmful to Ukraine," Tymoshenko said. "Such unions are dishonest and are a threat not only to a parliamentary majority, not only to political forces, but to the very existence of an independent Ukraine."
With all ballots counted from the March 26 parliamentary election, the Party of Regions had a clear lead, with 32 percent. Tymoshenko's party came in second, followed by President Viktor Yushchenko's Our Ukraine party. Only two other parties, the Socialists and the Communists, secured seats in parliament.
Tymoshenko said the new government could only be a "democratic coalition".
Tymoshenko and Yushchenko were allies during Ukraine's 2004 Orange Revolution, but split six months ago when he sacked her from the post of prime minister.
("Ukrayinska pravda")
RFE/RL's Election Coverage