PRAGUE, March 30, 2006 (RFE/RL) -- International efforts to ensure Iran does not secretly develop nuclear weapons entered a new phase today.
Foreign ministers of the "Big Five" UN Security Council members -- France, Russia, the United States, Britain, and China -- met in Berlin to plan concrete steps designed to achieve clarity in Iran's nuclear program. They were joined by Germany's foreign minister and the European Union's foreign policy chief.
Iranian Foreign Minister Manuchehr Mottaki today told a conference on disarmament that he does not envisage Iran reaching a deal with Western nations that fear Tehran is seeking nuclear weapons.
Cease Enrichment
The meeting came less than 24 hours after the full Security Council issued a document demanding that Iran cease nuclear- fuel enrichment and allow the UN nuclear watchdog, the IAEA, to verify Iranian compliance.
At UN headquarters on March 29, U.S. Ambassador John Bolton said the UN action sends a clear message to Tehran.
"The message we're sending is a message to the government of Iran that has been pursuing nuclear weapons," he said. "[It is] a very clear message that we want a response from the government of Iran. And the response we want is full compliance with the obligations it voluntarily undertook under the nonproliferation treaty, the obligations it undertook under the safeguards agreement with the IAEA, and the nearly dozen IAEA resolutions that have been adopted."
The task in Berlin, however, is not an easy one. The Security Council spent three weeks formulating its document, a compromise text which makes no mention of possible sanctions or force against Iran to make it comply.
China And Russia Seek Softer Tone
The United States and its European allies had sought stricter language, with the prospect of sanctions, but Russia and China did not agree.
The principal actors in Berlin are the same, ensuring that a similar divergence of views will persist. In the runup to the Berlin talks, Russian Foreign Minister Sergei Lavrov said Moscow will not support the use of force or coercion against Iran.
China, too, pressed for a purely diplomatic solution, thus limiting the pressure that can be brought on Iran. Foreign Ministry spokesman Qin Gang today.
"We think under the present circumstances there is still room to resolve the Iran nuclear issue through diplomatic negotiations," Qin said. "The international community shouldn't give up their efforts. We hope relevant parties should remain restrained and patient, and create a favorable environment for the resolution of the Iran nuclear issue through diplomatic means. We are open to any suggestions and efforts that help achieve this goal."
Tehran Holds Firm
Iran has not yet formally reacted to the Security Council's document. Iran's ambassador to the UN, Javad Zarif, did say at UN headquarters on March 29 that Iran will give its response in due time.
"The Iranian government will study the statement and will make its position known, but the point I want to make is that Iran does not respond well to threats, or to deadlines; Iran has always been prepared to reach a negotiated agreement whereby the concerns of the international community, or those countries who claim to represent the international community, would be met," Zarif said.
In Geneva, Iranian Foreign Minister Manuchehr Mottaki today told a conference on disarmament that he does not envisage Iran reaching a deal with Western nations that fear Tehran is seeking nuclear weapons. However, he said Iran is willing to continue talks with the IAEA.
What Would Sanctions Mean?
What Would Sanctions Mean?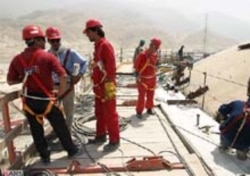 Economic sanctions could further undermine Iran's already shaky economy (Fars)


MOVING TOWARD SANCTIONS: If the United Nations Security Council imposes sanctions on Iran, domestic support for Iranian President Mahmud Ahmadinejad will wane, according to ALEX VATANKA, Eurasia editor for Jane's Information Group.
Vatanka told a February 24 RFE/RL briefing that "economic sanctions will hurt the average Iranian" and, consequently, many "will blame the ruling clerics" for making life difficult and "impairing the country's long term development."
Vatanka said sanctions would be a serious challenge to the Iranian government. If harsh economic sanctions were imposed, Iran's poorest population will be hurt the hardest -- and might react "as they did in the 1970s and protest in the streets." Sanctions on travel, Vatanka said, would hurt a many Iranians because "Iran is a nation of small traders" who depend on the ability to travel to earn an income. According to Vatanka, unemployment in Iran is estimated at 30 percent, "so small trading is essential to survival." Although current U.S. sanctions "haven't worked," he said, "Iranians fear an oil embargo." He stressed that "oil revenues are a major part of the economy, so it is critical to look at this sector."
Should negotiations with the European Union and the UN fail, Vatanka believes that Iran would follow a "North Korea model," since Ahmadinejad's base of support among the "Islamist militias" has been "urging withdrawal from the NPT [Nuclear Non-Proliferation Treaty]." The Iranian government's "tactic" so far, Vatanka said, is governed by the belief that "by shouting the loudest, you'll get concessions [from the West]."
LISTEN
Listen to the complete panel discussion (about 60 minutes):

Real Audio
Windows Media

THE COMPLETE STORY: RFE/RL's coverage of the controversy surrounding Iran's nuclear program.
CHRONOLOGY
An annotated timeline of Iran's nuclear program.