Human rights advocates say some 80 prisoners were released early today from detention centers in Minsk after spending up to 10 days in jail.
Belarusian authorities say more than 500 people were detained for taking part in protest demonstrations following the disputed March 19 presidential election.
Aides of opposition leader Alyaksandr Milinkevich said today they were investigating unconfirmed reports that a protester, beaten by riot police, had died in a Minsk hospital.

The opposition, backed by Western governments and observers, say the vote was a fraud, which Belarusian authorities deny.
Foreign Minister Ursula Plassnik of Austria, which currently holds the EU rotating Presidency, today reiterated calls for the immediate release of all detainees.
(Charter 97, dpa, AP)

Minsk, March 25
THE AUTHORITIES GET TOUGH: RFE/RL's Belarus Service filed these images from the police action against the March 25 demonstration in Minsk. Photographs by Maks Kapran.
LISTEN
Listen to the sounds of the demonstration:
Real Audio Windows Media
Real Audio Windows Media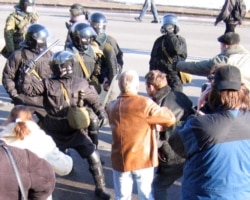 (RFE/RL)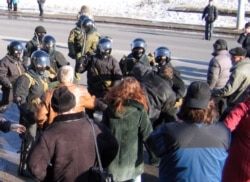 (RFE/RL)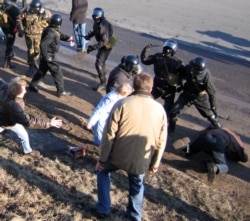 (RFE/RL)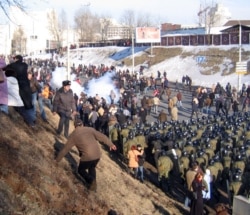 (RFE/RL)

THE COMPLETE PICTURE:
Click on the image to view a dedicated page with news, analysis, and background information about the Belarusian presidential ballot.


COVERAGE IN BELARUSIAN: Click on the image to view RFE/RL's coverage of the election campaign in Belarusian and to listen to RFE/RL's Belarusian Service.