Journalist Kidnapped In Iraq Returns To U.S.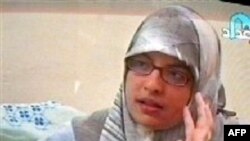 A frame from a videotape that Carroll made shortly after her release last week (AFP) April 3, 2006 -- Jill Carroll, the U.S. journalist held hostage for almost three months in Iraq, has returned to the United States to be reunited with her family.
She arrived on April 2 in the eastern city of Boston aboard a commercial flight from Germany, where she was first taken after her release. Carroll told friends that she finally feels that she is "alive again."
She was freed by her captors on March 30. She was seized January 7 in western Baghdad by gunmen who killed her Iraqi translator.
On April 1, Carroll strongly disavowed videotaped statements she had made during her captivity in Iraq, saying she had been repeatedly threatened. In a video recorded before she was freed and posted by her captors on an Islamist website, Carroll spoke out against the U.S. military presence in Iraq.
Carroll attracted a huge amount of sympathy during her ordeal, and a wide variety of groups in the Middle East, including the Islamic militant group Hamas, had appealed for her release.
(compiled from agency reports)