After the test, the head of Iran's Revolutionary Guards, General Yahya Rahim Safavi, said Iran is now able to confront any invasion.
Iran says it has been testing new missile and torpedo technologies as part of military exercises in the Persian Gulf and Sea of Oman, including a radar-evading rocket and a high-speed underwater missile.
Iranian Foreign Minister Manuchehr Mottaki said on April 4 that Tehran's military policy is fundamentally defensive, stressing that Iran is "not a threat" but, rather "positive...for the security of the region."
Iran rarely gives enough details of its military hardware for analysts to determine whether Tehran is making genuine military-industrial advances. The war games come as international pressure mounts on Iran over its nuclear program.
(compiled with agency reports)
What The Street Thinks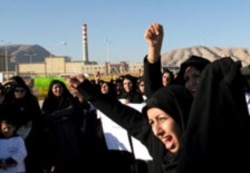 A demonstration in support of Iran's nuclear program outside the Isfahan uranium-conversion facility in Isfahan in January (epa)

IRANIANS SPEAK OUT ON THE DISPUTE: To find out more about what Iranians think about the international controversy over their country's nuclear program, RADIO FARDA asked listeners to express their views....(more)
See also:
Iran: Public Has Mixed Feelings On Nuclear Issue

THE COMPLETE PICTURE: RFE/RL's complete coverage of controversy surrounding Iran's nuclear program.
CHRONOLOGY
An annotated timeline of Iran's nuclear program.