Milinkevich was addressing the European Parliament in Strasbourg.
"We think not dozens, but as a minimum, hundreds of people should be on that [travel ban] list," he said. "Why? It [should include] judges whose rulings are politically motivated, heads of universities who expel students for their political views, militia officers who beat people, and all those propaganda-mongers who are destroying freedom of thought in society. We do not have TV. We have a propaganda organ."
Austrian Chancellor Wolfgang Schuessel today confirmed that President Alyaksandr Lukashenka will top the list of officials on a proposed EU travel ban.
"We put Lukashenka on the visa ban list at the last European Council. We are ready to impose sanctions against those responsible for the suppression of peaceful demonstrations. This will be discussed further, of course."
The EU adopted the ban in response to Belarus's presidential elections on March 19 that the EU said were not free.
The move was criticized by Russia. Russian Foreign Minister Sergei Lavrov said today the EU should resolve its problems with Belarus through dialogue, not isolation.
Meanwhile, in a statement posted on his web site, Milinkevich outlined his strategy for peacefully ousting Lukashenka from power. The plan includes for the opposition to collect signatures on petitions and to call for parliamentary deputies to be removed from their posts.
(compiled from agency reports)

Minsk, March 25
THE AUTHORITIES GET TOUGH: RFE/RL's Belarus Service filed these images from the police action against the March 25 demonstration in Minsk. Photographs by Maks Kapran.
LISTEN
Listen to the sounds of the demonstration:
Real Audio Windows Media
Real Audio Windows Media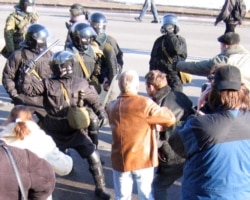 (RFE/RL)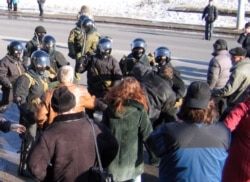 (RFE/RL)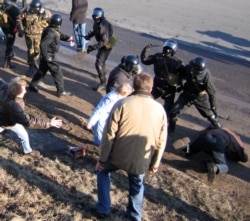 (RFE/RL)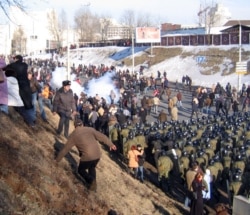 (RFE/RL)

THE COMPLETE PICTURE:
Click on the image to view a dedicated page with news, analysis, and background information about the Belarusian presidential ballot.


COVERAGE IN BELARUSIAN: Click on the image to view RFE/RL's coverage of the election campaign in Belarusian and to listen to RFE/RL's Belarusian Service.