Ambassador Mariusz Maszkiewicz was imprisoned last month after taking part in rallies against the disputed March 19 election that saw President Alyaksandr Lukashenka reelected.
Maszkiewicz's father is on a hunger strike until he says his son is released.
In Minsk, the Belarusian Foreign Ministry says it has received no official notice of the demand to free Maszkiewicz.
Relations between the two countries have been strained for months, and Poland openly backed the main opposition candidate to Lukashenka.
(Reuters, AFP)
Minsk, March 25
THE AUTHORITIES GET TOUGH: RFE/RL's Belarus Service filed these images from the police action against the March 25 demonstration in Minsk. Photographs by Maks Kapran.
LISTEN
Listen to the sounds of the demonstration:
Real Audio Windows Media
Real Audio Windows Media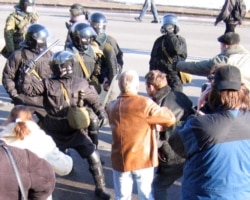 (RFE/RL)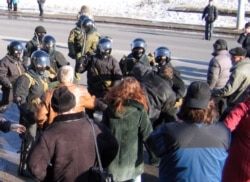 (RFE/RL)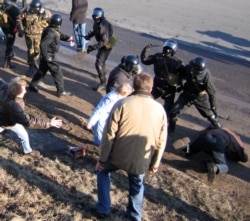 (RFE/RL)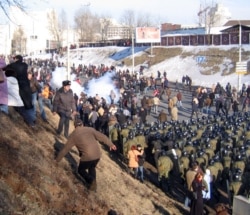 (RFE/RL)

THE COMPLETE PICTURE:
Click on the image to view a dedicated page with news, analysis, and background information about the Belarusian presidential ballot.


COVERAGE IN BELARUSIAN: Click on the image to view RFE/RL's coverage of the election campaign in Belarusian and to listen to RFE/RL's Belarusian Service.