Court Rejects Khodorkovsky Request To Serve Time Near Moscow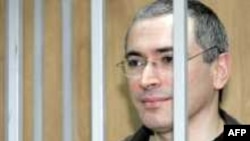 Khodorkovsky is serving his prison time near the Chinese border, some six time zones from Moscow (file photo) (AFP) April 7, 2006 -- A Russian court has rejected an appeal for jailed Yukos oil firm founder Mikhail Khodorkovsky to be allowed to serve his prison term closer to Moscow, where he could be more easily visited by his family.
Khodorkovsky is serving his eight-year sentence for fraud and tax evasion at a prison camp in Chita in eastern Siberia, six time zones from Moscow on the Chinese border.
A Moscow district court ruled yesterday that the decision to send Khodorkovsky to Chita was lawful.
In another development, the new vice president of Yukos, Vasily Aleksanyan, was arrested by authorities Thursday on suspicion of embezzlement and money-laundering.
Yukos, once Russia's biggest oil company, has been crippled by prosecutions and government orders to repay billions of dollars in back taxes. Russian authorities deny that steps against the firm have been politically motivated.
(compiled from agency reports)