Moscow Court Rejects Khodorkovsky's Sentence Appeal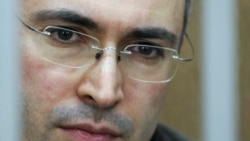 Mikhail Khodorkovsky (file photo) (ITAR-TASS) March 9, 2006 -- A Moscow court panel today rejected an appeal against sentences handed down to Mikhail Khodorkovsky, the former head of the Yukos oil company, and to several other former Yukos executives.
Judges rejected requests by defense lawyer Genrikh Padva to revisit Khodorkovsky's sentence of eight years.
Padva said he would file a further appeal to the panel's chief judge, who will have the final word.
Khodorkovsky, once one of Russia's richest men, was convicted last year on tax evasion and fraud charges and sent to a Siberian prison camp. Critics said the trial was Kremlin-inspired punishment for Khodorkovsky's political inspirations.
(compiled from agency reports)