Until now Khodorkovskii, who is serving an eight-year sentence for fraud and tax evasion, could only see his lawyers outside of his prison-mandated work hours. His lawyers argued this was a violation of his rights to proper access to legal advice.
Khodorkovskii, once Russia's richest man, says the charges against him were part of a Kremlin plot to seize control his Yukos oil company.
The Kremlin says it played no role in his conviction.
(Reuters)
Illarionov's Resignation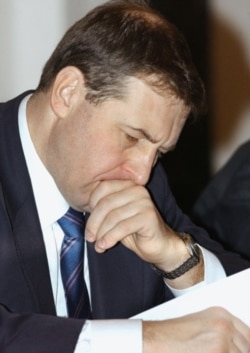 Andrei Illarionov (ITAR-TASS file photo)

Former Russian presidential economy adviser ANDREI ILLARIONOV quit his post in President Vladimir Putin's administration on December 27, saying that he could not work because "the country has stopped being politically free." The same day, Illarionov spoke with reporters in Moscow following a lecture at the Higher School of Economics.
Question: Why did you resign?
Illarionov: More than anything, it has to do with the futility of attempting to implement the policies that I took the job in order to implement. In April 2000, when I accepted the president's invitation to take this post, we were talking about carrying out policies that would broaden economic freedom for Russian citizens -- a policy that would push for the quickest possible economic development.
But this policy, as it was discussed in the spring of 2000, never came to be. Over the past two years we've seen a change away from what I would even call a mainstream policy -- one that maybe wasn't liberal, but that at least had certain rational elements that were possible to support. And that's what we were doing, we were supporting it. But then came a different policy, a different economic model -- the main, central aspect of which is a corporate state. There is no free economic space remaining anywhere in Russia. In this new model, the guiding principles are selectivity, favoritism, and discrimination -- not a level playing field for conducting business, or for life. So, personally speaking, as long as there was still the possibility of having some influence in terms of preventing that kind of policy from taking hold, it was possible to work. But that possibility no longer exists.
I would also say that there is a big difference between working for a government that is maybe not entirely free, maybe only partially free, but which has the chance like any transitional economy to eventually move on to the category of a politically free country. It's a completely different matter to work in a country that qualifies as a politically unfree country.
Question: What next? Will you run in the 2008 presidential election?
Illarionov: To my mind, engaging in politics means a battle for political power, a battle to hold onto political power, a battle to broaden your political power, and a battle with your political competitors. I haven't engaged in that kind of activity for almost the past six years -- the period I've spent advising the president on economic issues. I didn't do it before then, and I don't intend to do it now. Nor have I received any proposals that I do so.
Question: Why are you resigning now and not a year ago, after the sale of the main Yukos subsidiary Yuganskneftegaz to the state?
Illarionov: A year ago, I still had a sense there was a chance and hope. What happened was tragic, but a mistake, and one that at least could be corrected with the proper subsequent steps. I won't hide the fact that I had hoped the Russian Federation's judicial system was not yet affected by the kind of metastasis that seems to have infected the judicial processes that are going on now. But now we can see that this metastasis has penetrated not only the local courts, and the Moscow regional courts, but the Constitutional Court as well. So we have to focus our efforts on pursuing a deep renewal of the government itself and of the judicial system as one of the country's most important political pillars. That hope -- if it was even possible to speak of having such hope a year or so ago -- it's impossible to speak of it now.