EU Agency Says Roma Face Routine Discrimination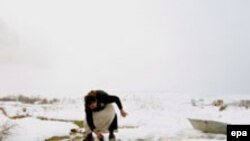 A Kosovar Roma woman washes clothes at a camp in the village of Plemetina in early March (file photo) (epa) April 7, 2006 --The European Union's agency on racism says Roma continue to face some of the greatest discrimination in Europe.
The Vienna-based EU Monitoring Center on Racism and Xenophobia says Roma are routinely denied the right to basic needs, including jobs, housing, education, and health care.
The center called for a more concerted effort and greater political will to eliminate bias and to help lift Europe's Roma communities out of poverty.
An estimated 6.2 million Roma live in Europe, the majority of them in Central and Eastern Europe. Many Roma face violence as well as discrimination.
The EU statement comes a day ahead of April 8 commemorations of International Roma Day.
(AP, Reuters)