A police official says the mortars missed their target, in the city's Al-Kazimiyah district. There are no reports of casualties.
The incident shortly after Iraq's Interior Ministry warned Baghdad residents to avoid mosques and markets, saying it had received information that insurgents were planning to detonate a series of car bombs.
South of Baghdad, in Al-Kufah, radical Shi'ite cleric Muqtada al-Sadr on April 7 blamed U.S. and Iraqi government forces for an April 6 bombing outside the Imam Ali shrine in Al-Najaf, a site sacred to Shi'ite Muslims.
Ten people were killed and 42 wounded in the car-bomb blast.
In Ba'qubah, 60 kilometers northeast of Baghdad, armed men shot dead four men in two separate attacks.
(AP, AFP, Reuters)

Sectarian Iraq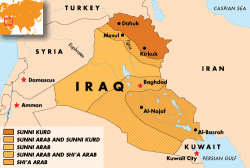 Click to enlarge the image.
SUNNI, SHI'A: Iraq is riven along sectarian lines, faults that frequently produce violent clashes and are a constant source of tension. Sectarian concerns drive much of Iraqi politics and are the main threat to the country's fragile security environment.


THE COMPLETE PICTURE: Click on the image to view RFE/RL's complete coverage of events in Iraq and that country's ongoing transition.