Court Orders Yukos VP Held In Custody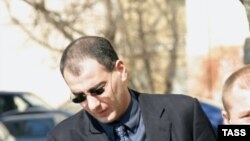 Yukos Vice President Vasily Aleksanyan is pictured at the Simonovsky Court on April 5 (ITAR-TASS) April 7, 2006 -- A Moscow court has ordered the vice president of Russia's Yukos oil company to be held in custody.
Vasily Aleksanyan was arrested yesterday on charges of embezzlement and money laundering. Aleksanyan denies any wrongdoing.
He had asked the court to release him pending further investigation. Prosecutors argued there was a risk Aleksanyan would try to leave the country or destroy evidence.
Yukos, once Russia's biggest oil producer, was crippled by billions of dollars in back taxes and its founder, Mikhail Khodorkovsky, imprisoned on fraud and tax-evasion charges after a trial widely seen as punishment for his political ambitions.
(AP)