PRAGUE, April 8, 2006 (RFE/RL) -- President Alyaksandr Lukashenka arrived at Minsk's Palace of the Republic for his inauguration after traveling through streets emptied of traffic and people.
Afterwards, he attended a military parade. Later in the day, there will be concerts and performances.
But the festivities to mark the start of Lukashenka's third term in office belie problems below the surface.
No foreign heads of state attended the ceremony, an indication of Lukashenka's international isolation.
In his inauguration speech, Lukashenka criticized the West for fomenting unrest in the hope Belarus would become the next former Soviet country to have a so-called "color revolution."
It was, he said, a test that Belarus had come through "with honor."
"We once again proved that the Belarusian people can't be strangled, they can't be manipulated," he said. "We are an independent and proud nation with a sense of dignity and strength of spirit."
Officially, Lukashenka won the March 19 presidential election with 83 percent of the vote, trouncing his closest rival, Alyaksandr Milinkevich, who officially garnered just 6 percent of the vote.
But observers said the vote was neither free nor fair. Opposition protests of an almost unprecedented scale followed. Activists erected a tent city, and protests continued for several days, until police broke up them up.
Western governments also denounced the vote as rigged, and the European Union this week gave a warm welcome to Milinkevich in several European capitals.
EU foreign ministers are expected to approve a visa ban next week on Lukashenka and 30 other top officials.
European Commission spokeswoman Emma Udwin told RFE/RL on April 7 that "a decision will be taken on [April 10]," noting that there are "still a very large number of people in detention, for example."
To coincide with the inauguration, Belarusian authorities on April 8 released nearly all the opposition activists who remained in prison for taking part in the protests that followed the election.
However, prison authorities said one opposition leader, Alyaksandr Kazulin, would remain in custody.

Assessing The Election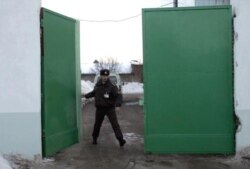 A police officer closes the gate on a Minsk detention center after demonstrators were brought there on March 24, 2006 (RFE/RL)
LOOKING BACK: On March 21, 2006, RFE/RL's Washington office hosted a briefing on the March 19 presidential election in Belarus and its unfolding aftermath. The roundtable discussion featured CELESTE WALLANDER, director and senior fellow at the Russia and Eurasia Program of the Center for Strategic and International Studies; "The New York Times" Moscow correspondent STEVEN LEE MYERS; and RFE/RL Belarus Service Director ALEXANDER LUKASHUK (the latter two speaking via telephone from Minsk).
The roundtable discussion focused on the actions of the administration of President Alyaksandr Lukashenka during the campaign and the election and on what the world can expect from Lukashenka's third term in office.
Listen to the entire briefing (about 60 minutes):
Real Audio Windows Media


THE COMPLETE PICTURE: Click on the image to view a dedicated page with news, analysis, and background information about the Belarusian presidential ballot.