PRAGUE, April 10, 2006 (RFE/RL) -- Opposition to Ibrahim al-Ja'fari from Iraq's Kurdish and Sunni parties has been growing since the middle of last year and has complicated talks on forming a new government, in the wake of December's elections.
Kurdish, Sunni Distrust
RFE/RL Iraq analyst Kathleen Ridolfo says the Kurds accuse al-Ja'fari of trying to concentrate power in his hands, at their expense. They also blame him for inaction on the question of the oil-rich northern city of Kirkuk, to which the Kurds lay claim.
"For the Kurds, the reasons [for their opposition] have to do with what they say is al-Ja'fari's monopolization of power in the transitional government," she says. "They say that he tried to hold on to power and to take some of the powers away from the presidency, specifically. They also are opposed to al-Ja'fari's stalling on the issue of Kirkuk, so they feel that he hasn't moved fast enough, that he's monopolizing power and they really want to see the future Iraqi government as a national-unity government. And they believe they can't do this with al-J'afari in office."
The Sunnis have similar complaints, although their opposition to al-Ja'fari is even stronger. They believe he has done little to rein in Shi'ite Interior Ministry forces implicated in the torture and killing of Sunnis. And they are increasingly concerned about al-Ja'fari's close contacts with radical Shi'ite cleric Muqtada al-Sadr and his militia.
"For the Sunnis, it's somewhat similar," Ridolfo says. "But mainly their issue has to do with the ministries, particularly the Interior Ministry, because Interior Ministry forces have of course been accused of arresting and killing Sunni Arabs for a number of months."
The pressure on al-Ja'fari to step aside is intense. U.S. Secretary of State Condoleezza Rice and British Foreign Minister Jack Straw paid a joint visit to Baghdad at the beginning of April to emphasize their growing impatience with the lack of progress on forming a government.
Divisions Within Shi'ite Bloc
Al-Ja'fari also faces opposition from inside his own alliance.
Much now depends on how al-Ja'fari's Al-Da'wah Party behaves, according to Ridolfo, and whether it can reach a deal with influential al-Sadr supporters on a compromise candidate to replace their much-criticized leader.
Ridolfo says that if al-Ja'fari's party "supports the stepping down of al-Ja'fari and the nomination of a new Shi'ite leader to head the next government and they truly support it, then I think everything will proceed smoothly and the Shi'ite alliance will remain intact."
She further notes that there "has been a big fracture within the alliance for several months and a lot of it has to do with the growing role of Muqtada al-Sadr's supporters in the alliance. He has about 30 supporters who won parliamentary seats through the alliance. And so they have a good strong weight in this incoming government and they are very supportive of al-Ja'fari. Now, if al-Ja'fari can contain the Sadr trend and keep them from objecting to his stepping aside, then I think the alliance will remain intact."
If not, the deadlock in forming a new government will deepen. And violence could also increase.
Regional Sunni-Shi'ite Tensions
The urgency of the situation was highlighted by Egyptian President Hosni Mubarak on April 8, who said during a television interview he believed that Iraq "is not on the threshold [of civil war]. It has pretty much started. There are Sunnis, Shi'a, Kurds, and those types which come from Asia. The situation is very difficult and I don't know how Iraq is going to get together again. The country is nearly destroyed."
Mubarak's comments were vehemently rejected by an angry al-Ja'fari as well as by Iraqi President Jalal Talabani, a Kurd, and Sunni Arab leader Adnan Pachachi.
But Mubarak's concern was echoed on April 9 by Saudi Arabia's Foreign Minister Saud al-Faisal, who said that "what is going on in Iraq is war."
What is prompting Egyptian and Saudi leaders to weigh in so publicly on Iraq at this point? Ridolfo says it may be a belated realization that the two majority-Sunni states have squandered their influence until now and may fear this has allowed Iran to increase its influence in Iraq.
"Perhaps it's related to a realization, particularly by Egypt and Saudi Arabia -- who see themselves as the leading Sunni Arab states in the region, the guardians, if you will, of what happens in the region," she says. "I think they've come to realize that they sat Iraq out for the last three years. They effectively did nothing to participate in Iraq and pushed themselves away from Iraq because they didn't want to get involved with the situation inside the country."
Ironically, Egypt's and Saudi Arabia's involvement in Iraqi politics could help worsen the sectarian conflict between Sunnis and Shi'a that the two countries both claim to deplore.
Deputies Speak Out Against Al-Ja'fari Bid
Deputies Speak Out Against Al-Ja'fari Bid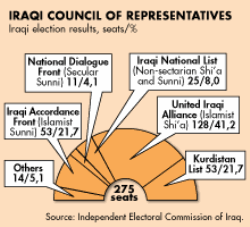 LOOKING FOR A NEW FACE: Two Iraqi parliament deputies on April 2 told RFE/RL's Radio Free Iraq (RFI) that they do not support the nomination of Prime Minister Ibrahim al-Ja'fari to retain his post. Disagreement over the nomination, among other things, has prevented Iraq from forming a government in the wake of legislative elections in December 2005.
"Our Kurdish friends and our friends in the Iraqi Accordance Front have insisted in new messages they sent three days ago on a refusal to deal with the nominee of the United Iraqi Alliance [al-Ja'fari]," said QASIM DAWUD, a parliamentary deputy and a member of the independent bloc within the United Iraqi Alliance. "But I must clearly say that I represent a very broad stream within the alliance that supports a policy [of choosing a nominee other than al-Ja'fari]...." (more)


THE COMPLETE PICTURE: Click on the icon for RFE/RL's complete coverage of events in Iraq and that country's ongoing transition.