Shi'ite Alliance Postpones Decision On Al-Ja'fari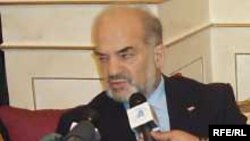 Ibrahim al-Jafari (file photo) (RFE/RL) April 11, 2006 -- Leaders of Iraq's main Shi'ite bloc were unable to reach a decision today on whether to keep incumbent Ibrahim al-Ja'fari as their nominee for prime minister, and have put off further talks until April 12.
Sunni and Kurdish parties are opposed to al-Ja'fari serving another term, blaming him for failing to end sectarian violence. A representative at today's talks said al-Ja'fari's own Islamic Al-Da'wah Party continues to stand by him.
One member of the Shi'ite alliance, the Al-Fadhila party, says it is prepared to name another candidate if the alliance drops al-Ja'fari. Al-Fadhila is not a powerful force in the United Iraqi Alliance, but its stance may pressure other members to start considering other candidates.
The standoff has left a power vacuum in Iraq nearly four months after parliamentary elections.
(AP, AFP)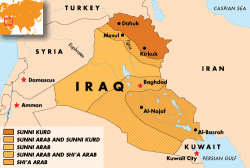 Click to enlarge the image.
SUNNI, SHI'A: Iraq is riven along sectarian lines, faults that frequently produce violent clashes and are a constant source of tension. Sectarian concerns drive much of Iraqi politics and are the main threat to the country's fragile security environment.


THE COMPLETE PICTURE: Click on the image to view RFE/RL's complete coverage of events in Iraq and that country's ongoing transition.