ST. PETERSBURG, April 12, 2006 (RFE/RL) -- In a rare show of solidarity, several hundred Russians and foreign students took to the street on April 11 to denounce escalating violence against dark-skinned foreigners in St. Petersburg.
The demonstration came in response to the killing of Lamzar Samba, a 28-year-old student from Senegal. Samba was gunned down on April 7 as he and several African students were leaving a nightclub where they had been celebrating their university's faculty day. Prosecutors say he was shot with a hunting rifle emblazoned with a swastika, which was found near the scene.
Samba belonged to African Unity, an association helping Africans in St. Petersburg, and was a popular figure among the local African community. At the demonstration, a group of African students sang in his memory, clutching his portrait to their chests. Samba, a fifth-year communications student, was about to graduate and was due to return to Senegal in two months.
'No Reponsible Politicians'
His killing has also shocked many from St. Petersburg who are ashamed of the slew of hate crimes that have given their city the reputation as one of the most racist spots in the country.
On the day before Samba's killing, a Vietnamese student was attacked in St. Petersburg, and on March 26 a 9-year-old girl of African descent was wounded in a knife attack in the city.
Yury, a 67-year-old pensioner who took part in the demonstration, said he was angry with politicians for failing to combat racist crimes:
"I am outraged by the policy of our leaders, by the fact that they are doing nothing to fight fascist acts," Yury said. "I am outraged and I will demonstrate here against fascism. There should be a leadership of all democratic forces to make the whole nation rise and take part in such demonstrations; we need massive engagement and courage. There are no courageous people here, no responsible politicians."
Russian President Vladimir Putin has condemned racist violence and the Russian Foreign Ministry was quick to release a statement extending condolences to Samba's friends and family.
But like Yury, Russian human rights groups see this as little more than lip service. Rights activists have long accused the government of exploiting nationalist and xenophobic feelings and warned that white-supremacy groups could easily spin out of control.
"The authorities are fully aware that their social and economic policy is very flawed with respect to providing acceptable living conditions to the majority of the population," said Yury Vdovin, a prominent St. Petersburg activist. "All the failures are [allegedly] due to the presence of other people with either the wrong religion, the wrong skin color, or another ethnic background. [The authorities seek to] direct the discontent caused by the country's social and economic situation toward these people."
Glimmer Of Hope?
In the past, prosecutors have qualified even blatantly racist attacks as mere hooliganism, a charge that carries relatively light sentences. A St. Petersburg court last month acquitted a Russian teenager accused of stabbing a 9-year-old Tajik girl to death, finding him guilty only of hooliganism and sentencing him to 5 1/2 years in prison. The verdict's leniency sparked public outrage.
Since then, prosecutors seem to have taken a tougher stance on hate crimes. Over the past few weeks, a series of investigations into attacks on non-ethnic Russians -- including Samba's killing -- have been launched under charges of racially motivated crimes.
This has generated some hope among rights activists that the authorities may finally have woken up to the danger posed by Russia's blossoming ultranationalist movement. But this hope is not shared by Samba's friends.
One of the victim's close friends, a Senegalese student who wished to remain anonymous, told RFE/RL that he sees no end to the violence.
"We all know that there has always been xenophobia in St. Petersburg. We see that it is growing," he said. "At the beginning they only hit, then they began killing with knives, and now with rifles. We are afraid that in one or two years' time it will be with grenades or bombs."
Life In Russia Unbearable
African students describe their lives in Russia as a daily exercise in fear management. Most of them have been beaten up at least once and carefully follow the advice of both Russian and African authorities -- never venture alone into the street.
But Samba's killing, the first racist attack in St. Petersburg in which a firearm was used, has sent ripples of fear through the African community.
Idris, a 20-year-old construction student from Senegal, said he wants to leave Russia. He shares a dilapidated two-room flat in a bleak St. Petersburg suburb with seven other African students.
Compounded by homesickness and poverty, the constant fear of being gunned down like his friend Samba has made life in Russia unbearable for Idris.
In Soviet times, Russia welcomed the brightest students from friendly African states. Russian universities, which still offer good standards of education at a fraction of the price charged by Western universities, remain a popular destination for African students.
But after one year in Russia, Idris still reels from the cruel understanding that the "friendship between peoples" once so proudly cultivated by Russian authorities has vanished as suddenly as the Soviet Union.
"Having a Russian friend can bring you trouble with skinheads," he said. "It can be dangerous, because you don't understand them [Russians], you can't understand them. I simply can't understand these people. It is a mistake to come to Russia. I don't even dare have a Russian friend."
Just like Idris, most of the Senegalese students are now discussing possibly leaving Russia for home.
Epidemic Of Hate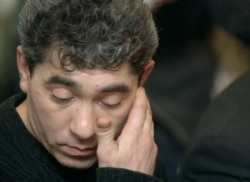 Yusuf Sultonov, whose 9-year-old daughter was beaten and stabbed to death in St. Petersburg on February 9, 2004 (TASS)

EXTREMISM ASCENDANT: More than half of Russians have xenophobic views, according to a report published in August 2005. In the report, rights groups say that -- despite progress in some areas -- racism, xenophobia, and anti-Semitism remain rife in Russia. But what worries watchdogs most are recent moves by nationalist-patriotic movements to form paramilitary groups....(more)
RELATED ARTICLES
A Timeline Of Recent Racial Incidents
Russian Ombudsman Condemns Hate Crimes
Hate Crime Trial Highlights Mounting Racism
Minister Says Russia Can't Stop Xenophobia Alone
For African Students In Russia, Affordable Education Comes At A Price
ARCHIVE
To view an archive of all of RFE/RL's coverage of Russia, click here.

SUBSCRIBE
For a regular review of civil-society developments throughout RFE/RL's broadcast region, subscribe to "RFE/RL (Un)Civil Societies."


RFE/RL IN RUSSIAN: Visit RFE/RL's Russian-language website, featuring news, analysis, features, streaming audio, and more in Russian, courtesy of RFE/RL's Russian Service.