PRAGUE, April 7, 2006 (RFE/RL) -- St. Petersburg city prosecutor Sergei Zaitsev told journalists today that while an official motive has yet to be established, the 28-year-old victim's raceis being considered as a factor in the crime.
"An investigation has begun according to Article 105, Part 2, Paragraph L [of the Russian Criminal Code]; that is, murder out of ethnic and racial hatred," Zaitsev said. "I'd like to point out that the motive has not yet been determined, but considering the fact that the victim was African, we deliberately assigned a higher degree [to the case] in order to give our work the right direction."
Lamzar Samba was a fifth-year student at St. Petersburg's Communications Institute who belonged to African Unity, a human rights organization that represents the interests of the city's African emigre community.
Samba was shot dead around 6 a.m. as he and a group of African students were leaving a club near the city center where they were celebrating their institute's faculty day.
One of the students in the group, Michel Panabian, told RFE/RL's Russian Service today that they were heading toward a metro station when Samba was attacked from behind.
"We were walking down the street and there was a man who was walking behind us. He fired a shot. He hit one of us and the guy died," Panabian said. "After he fired, I turned back and I saw him, but he left immediately. I can only describe the way he was dressed."
AP quoted the city's deputy prosecutor, Andrei Lavrenko, as telling NTV television that a hunting gun decorated with a swastika was found at the crime scene.
Russian television broadcast images of the scene, and NTV reported that the man was shot in the head, according to AP.
Racist violence is a mounting problem in Russia. Members of ultranationalist and other groups regularly harass or attack Africans, Asians, and non-Slavic residents from the Caucasus or former-Soviet Central Asia.
A group calling itself the Party of Freedom welcomed the killing in St. Petersburg, saying on its website that "the cleanup of the city continues."
Today, a group calling itself the Party of Freedom welcomed the killing in St. Petersburg, saying on its website that "the cleanup of the city continues."
Desire Defoe, who heads the African Unity organization to which Samba belonged, expressed the helplessness many foreign citizens in the city feel.
"I very much hope that the [Russian] state will know what to do," Defoe said. "We can't tell the [Russian] state what should be done [to protect] foreign citizens, this is ridiculous. What advice can be given today? Even the police told us to walk in groups, not to be alone. Did that help? So, what are we supposed to do, sit at home?"
The French news agency AFP cited an independent study by the nongovernmental organization Sova as stating that six people have been killed and 79 injured in more than 40 racist attacks around the country this year.
According to Sova, 30 of the attacks and five deaths this year have taken place in Moscow. In St. Petersburg, 14 people have been injured and one killed in racially motivated attacks, not including today's killing.
In 2005, 28 people were killed and 366 injured in Russia as a result of hate crimes, according to Sova.
The Russian Foreign Ministry today issued a statement expressing condolences to Samba's relatives and friends following the killing.
However, rights groups argue that the authorities in Russia generally do little to combat such crimes.
Allison Gill is the director of the Moscow office for the New York-based Human Rights Watch. She told RFE/RL that part of the problem is systemic.
Fourteen people have been injured and one killed in racially motivated attacks in St. Petersburg this year, not including today's attack.
"I don't think the authorities are doing enough," Gill said. "The incident is very sad but its also very predictable in the climate today. Clearly there is a problem that goes beyond individual sorts of acts of violence. Of course, the perpetrators are the ones who carry ultimate responsibility, but the government need to look at this problem more systematically. This is a crime about what Russia stands for today."
In addition, Gill says the authorities' tendency to blame such attacks on fascists merely serves to obscure the issue.
"Historically, fascism was associated with World War II and of course the Soviet Union was a very powerful participant in the war, so the language of antifascism I think comes from there," Gill said. "But in today's rhetoric, you know, I'm not sure how meaningful it is any more, when I think they need to look at their own actions today."
Gill notes that some Russian politicians promote the idea that 'Russia is for Russians' only. And such statements, she said, can help fuel a climate in which people of different backgrounds are targeted in Russia.
(RFE/RL Moscow correspondent Claire Bigg contributed to this story.)
Epidemic Of Hate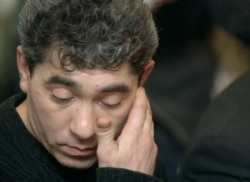 Yusuf Sultonov, whose 9-year-old daughter was beaten and stabbed to death in St. Petersburg on February 9, 2004 (TASS)

EXTREMISM ASCENDANT: More than half of Russians have xenophobic views, according to a report published in August 2005. In the report, rights groups say that -- despite progress in some areas -- racism, xenophobia, and anti-Semitism remain rife in Russia. But what worries watchdogs most are recent moves by nationalist-patriotic movements to form paramilitary groups....(more)
RELATED ARTICLES
A Timeline Of Recent Racial Incidents
Russian Ombudsman Condemns Hate Crimes
Hate Crime Trial Highlights Mounting Racism
Minister Says Russia Can't Stop Xenophobia Alone
For African Students In Russia, Affordable Education Comes At A Price
ARCHIVE
To view an archive of all of RFE/RL's coverage of Russia, click here.

SUBSCRIBE
For a regular review of civil-society developments throughout RFE/RL's broadcast region, subscribe to "RFE/RL (Un)Civil Societies."


RFE/RL IN RUSSIAN: Visit RFE/RL's Russian-language website, featuring news, analysis, features, streaming audio, and more in Russian, courtesy of RFE/RL's Russian Service.