Russian Deputy Sorry For Erotic Movie Of Saakashvili, Tymoshenko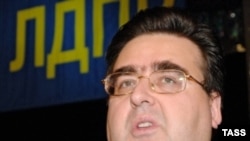 Aleksei Mitrofanov (file photo) (ITAR-TASS) April 13, 2006 -- A nationalist Russian lawmaker has publicly apologized for scripting an erotic movie parodying Georgia's President Mikheil Saakashvili and Ukraine's then Prime Minister Yuliya Tymoshenko one year ago.
Aleksei Mitrofanov of the Liberal Democratic Party (LDPR) told Georgian reporters he now believes the controversial film was "a political mistake."
The two leading roles in the 30-minute film, "Yulya," resemble Saakashvili and Tymoshenko. It ends with a sex scene in a helicopter.
Mitrofanov said the film had had "an impact quite different from what I expected."
Both the Georgian and Ukrainian governments ignored the movie.
(Imedi TV)