Tehran Hosts Conference In Support Of Palestinians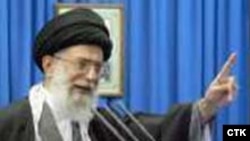 Iran Supreme Leader Ayatollah Khamenei (file photo) (CTK) April 14, 2006 -- An international conference in support of the Palestinian people started today in Tehran with a speech by Iran's Supreme leader Ayatollah Khamenei, who said it is the duty of Muslim countries to support Palestinians."
Today, the whole Islamic world should consider the Palestinian issue as its own issue. This is a mysterious key that will open the doors of happiness to the Islamic community."
Iranian President Mahmud Ahmadinejad also addressed the conference, saying that the existence of Israel poses a threat to the Islamic world. He called Israel a "rotten, dried tree" that will be annihilated by "one storm".
The conference is being attended by some 600 delegates from more than 20 countries including Syria, Jordan, Lebanon, and Russia.
Representatives of the militant groups Hamas, Hezbollah and the Islamic Jihad are reportedly also in attendance at the three-day conference.
(IRNA, AFP, Reuters)