Richie, Carreras Perform In Libya On Raid Anniversary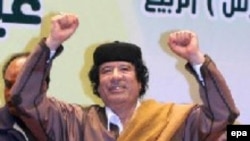 Libyan President Moammar Gadhafi (file photo) (epa) April 15, 2006 -- The American pop star Lionel Richie and the Spanish opera singer Jose Carreras have performed in a concert in Tripoli to mark the 20th anniversary of the U.S. bombing raid on Libya.
About 40 people, including an adopted daughter of Libyan leader Moammar Gadhafi, were killed in the raids on Tripoli and Benghazi in the early hours of April 15, 2006.
Then-U.S. President Ronald Reagan said the air strikes were launched in retaliation for Libyan complicity in the bombing of a West Berlin discotheque that killed an American soldier.
(Reuters, AFP)