Russian Military Chief Says Iran Far From Nuclear Bomb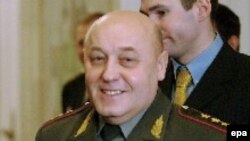 General Yury Baluyevsky (file photo) (epa) April 15, 2006 -- Russia's chief of military staff says that he is confident that Iran's current nuclear activities will "not allow it the possibility, either in the near or distant future, to make a nuclear weapon."
Speaking on April 14, General Yury Baluyevsky added Iran's military capability is aimed only at "preventing military action" against the country.
However, he did not rule out that materials used in Iran's controversial nuclear program could also be used to produce weapons.
The United States and the European Union accuse Iran of secretly trying to build a nuclear weapon, a charge that Iran denies.
(ITAR-TASS, AFP)


THE COMPLETE PICTURE: RFE/RL's complete coverage of controversy surrounding Iran's nuclear program.
CHRONOLOGY
An
annotated timeline
of Iran's nuclear program.