MOSCOW, April 18, 2006 (RFE/RL) -- The five permanent UN Security Council members along with Germany will resume the discussion on possible sanctions against Iran.
The talks, which are being held at the deputy foreign minister level, are likely to be difficult. The countries taking part in today's meeting, despite sharing fears over Iran's nuclear program, have different approaches to solving the issue.
The United States has said in a statement that it will retain its tough stance on Iran at today's talks and push for "significant action" against Tehran. The United States accuses Iran of seeking to build an atomic bomb under cover of a civilian nuclear energy program.
Sanctions Divide
Britain, France, and Germany appear to back the prospect of sanctions, but do not support possible military action should sanctions fail to convince Iran to abandon its nuclear-enrichment activities.
Russia and China have consistently opposed the U.S.-led push for sanctions against Iran.
Russian Foreign Ministry spokesman Mikhail Kamynin today said his country would continue to advocate a diplomatic solution to the crisis: "We are convinced that neither sanctions nor the use of force can resolve the concerns of the international community regarding Iran's nuclear program."
On April 17, Russia's outgoing UN ambassador Andrei Denisov called on Tehran to observe a moratorium on uranium enrichment until April 28. On that day the International Atomic Energy Agency (IAEA) is slated to report to the UN Security Council on Iran's compliance with international nuclear regulations.
Aleksandr Golts, a leading Russian defense expert, says Russia's strong economic ties with Iran influence its stance on the issue. But more importantly, Golts says, Russia sees the Iran nuclear debate as a powerful political lever over Western countries: "Russia regards its relations with Iran as a lever with which it can bargain with the West and sell dearly its position on Iran in exchange for other things -- for example promises to limit any form of criticism of the internal policy of [President Vladimir] Putin's regime, or promises of advantages upon WTO entry."
Middle East
Russia also considers Iran a key geopolitical partner in the Middle East.
Aleksandr Pikayev heads the Disarmament and Conflict Resolution Department at the Russian Academy of Sciences' World Economy and International Relations Institute.
He says Iran and Russia share interests in the South Caucasus, in Central Asia, and in Afghanistan. Iran, he says, also played an important part in curbing criticism from Muslim countries of Moscow's war against Chechen separatists.
Some observers suggest that Moscow's support of Iran may also signal its desire to assert itself as a mediator between the Organization of the Petroleum Exporting Countries (OPEC) -- which includes Iran -- and the Group of Eight industrialized nations.
Regarding China, Pikayev says Beijing's interests in the Iran nuclear issue are much more pragmatic.
"China has much bigger economic interests [in Iran] than Russia," Pikayev said. "China intends to invest tens of billions of dollars in Iran's oil industry, and possibly also in its gas industry. China assumes that Iran could become a major oil supplier for its booming economy. China is not ready to lose Iran as a highly attractive oil supplier."
Observers do not expect any major breakthrough from today's talks. Key decisions, they say, are unlikely to be taken before the IAEA's report is released.
IAEA Final Resolution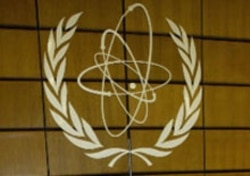 READ
On 4 February, the Board of Governors of the International Atomic Energy Agency approved in a 27-3 vote a resolution to report the matter of Iran's nuclear program to the United Nations Security Council. The key section of the resolution is Section 1, which states that the Board of Governors:
Underlines that outstanding questions can best be resolved and confidence built in the exclusively peaceful nature of Iran's program by Iran responding positively to the calls for confidence-building measures which the Board has made on Iran, and in this context deems it necessary for Iran to:
reestablish full and sustained suspension of all enrichment-related and processing activities, including research and development, to be verified by the Agency;
reconsider the construction of a research reactor moderated by heavy water;
ratify promptly and implement in full Additional Protocol;
pending ratification, continue to act in accordance with the provisions of the Additional Protocol with Iran signed on 18 December 2003;
implement the transparency measures, as requested by the Director General, which extend beyond the former requirements of the Safeguards Agreement and Additional Protocol, and include such access to individuals, documentation relating to procurement, dual use equipment, certain military-owned workshops and research and development as the Agency may request in support of its ongoing investigations.
COMPLETE TEXT: To read the final resolution, with late-hour changes highlighted, click here.

THE COMPLETE PICTURE: RFE/RL's complete coverage of controversy surrounding Iran's nuclear program.