PRAGUE, April 19, 2006 (RFE/RL) -- "Nasha Niva," which first appeared 100 years ago in Lithuania, began its anniversary year with trouble on the horizon.
First, the weekly paper was dropped from state subscription catalogues. It's a common tactic by the Belarusian authorities -- one which effectively blocks a paper's access to distribution.
Now authorities are threatening to close the paper's offices in Minsk.
Andrey Dynko, the editor in chief of "Nasha Niva," tells RFE/RL's Belarus Service he has appealed to the Lithuanian Embassy in Minsk to help secure United Nations protection for the historic Belarusian-language newspaper as a part of Belarus's cultural heritage.
"We said that we're preparing an appeal to the Lithuanian president and prime minister with a request that they apply to the [UN cultural agency] UNESCO to include 'Nasha Niva' on its Representative List of the Nonmaterial Cultural Heritage of Humanity," Dynko says. "We were met with understanding on the part of the Lithuanian diplomats, and they will help us with this request."
"Nasha Niva" last week received a letter from city officials saying the paper's presence in the Belarusian capital was no longer "appropriate."
Arrest
The reason -- Dynko's 10-day "administrative arrest." The "Nasha Niva" editor was charged with using foul language after being detained near the street protests that followed Lukashenka's reelection to a third term in office.
The Minsk government has refused to explain why Dynko's arrest necessitates the paper's expulsion from the city.
One group watching the situation carefully is the French-based press watchdog Reporters Without Borders (RSF).
RSF has accused the Belarusian government of "very serious" attacks on press freedom during the presidential election campaign and the days following the vote.
RSF's news editor, Jean-Francois Julliard, criticized the move against "Nasha Niva" as just the latest in a series of bully tactics aimed at shutting down the nonstate press: "We condemn this decision, because it's a new way to threaten a newspaper, to stop its activities. It's a new way to shut down an independent voice. We are always concerned by the situation of press freedom in Belarus."
Silencing Critics
Many observers said the press crackdown ahead of the March presidential vote was aimed at ensuring an easy reelection for Lukashenka.
But even with his third term in office secure, Lukashenka still appears determined to silence his few remaining public critics -- including "Nasha Niva," which may have irked the government with its independent and pro-nationalist stance.
Julliard says Lukashenka's reelection will make the situation even more difficult for independent journalists in Belarus.
"The situation was very, very bad during and before the election," Julliard said. "But the situation now means that President Lukashenka is completely intolerant to any criticism -- and not only during electoral campaign. I think he does not want to read any criticism in his newspapers in his country."
Belarusian-Language Paper
"Nasha Niva," which was established in the Lithuanian capital Vilnius in November 1906, has always published in the Belarusian language. This is a deeply political distinction in a country where Russian is the language of the ruling elite.
It was originally typeset in both Latin and Cyrillic lettering, to accommodate Belarusian Catholic and Orthodox communities, which used different scripts.
The paper's description as a 100-year-old publication is somewhat misleading. "Nasha Niva" has been published for a total of just 24 years -- from 1906-15 and from 1991 to the present.
Still, its history as the country's first Belarusian newspaper has given it special status -- particularly among those hoping to preserve a distinct cultural identity in Belarus.
Journalist and political analyst Alyaksandr Fyaduta writes for "Nasha Niva." He tells RFE/RL's Belarus Service that the paper is representative of the social changes beginning to appear in Belarus.
"'Nasha Niva' is not just a newspaper of that segment of society that speaks and thinks in Belarusian. "Nasha Niva" is the central newspaper of that segment of society that not only refuses to live in the corporate state that is being built [in Belarus] but also has a chance to live in a changed country," Fyaduta says. "What is taking place is actually an attempt at gagging the voice of the Belarusian youth, of those who were staying in the tent camp [on October Square] in Minsk."
For now, "Nasha Niva" will continue to publish in Belarus, using money from its supporters to maintain its website and continue its print distribution by any means possible.
But if conditions become even more difficult, "Nasha Niva" may be forced to return to its original home, Vilnius, in order to continue printing.
(RFE/RL's Belarus Service contributed to this report.)
Assessing The Election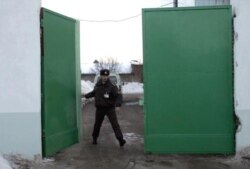 A police officer closes the gate on a Minsk detention center after demonstrators were brought there on March 24, 2006 (RFE/RL)
LOOKING BACK: On March 21, 2006, RFE/RL's Washington office hosted a briefing on the March 19 presidential election in Belarus and its unfolding aftermath. The roundtable discussion featured CELESTE WALLANDER, director and senior fellow at the Russia and Eurasia Program of the Center for Strategic and International Studies; "The New York Times" Moscow correspondent STEVEN LEE MYERS; and RFE/RL Belarus Service Director ALEXANDER LUKASHUK (the latter two speaking via telephone from Minsk).
The roundtable discussion focused on the actions of the administration of President Alyaksandr Lukashenka during the campaign and the election and on what the world can expect from Lukashenka's third term in office.
Listen to the entire briefing (about 60 minutes):
Real Audio Windows Media


THE COMPLETE PICTURE: Click on the image to view a dedicated page with news, analysis, and background information about the Belarusian presidential ballot.