PRAGUE, April 20, 2006 (RFE/RL) -- In Chornobyl's restricted zone, nature is gradually destroying all signs of human life. Vegetation devours and destroys wooden houses, covers cemeteries, playgrounds, and monuments. It's hard sometimes to imagine that humans once lived here.
The explosion on April 26, 1986, lifted the 1,000 ton lid off the reactor core and spewed radiation across Europe. But some people are worried that the disaster is sinking into oblivion. Memory, it seems, has a short lifespan.
Svyatlana Aleksiyevich, a Belarusian writer who has written several books on Chornobyl, says that for many the Chornobyl anniversary has become just another media event.
"The world functions this way -- people after Auschwitz pretended that Auschwitz never existed. After Chornobyl, they live as if there was no Chornobyl. But the world is already changed by Chornobyl," Aleksiyevich says.
Aleksiyevich says Chornobyl is unique as it clearly indicates what humanity is capable of and what it is unable to control: "There are no traditions of contemplating such events because there were no such events before. People often say that they haven't heard about [Chornobyl], that nobody told them [what really happened.] Neither philosophers, nor writers have done the job [of explaining.] They've put this work into the hands of doctors [and] politicians. I think this is an intellectual crime."
'A Prayer For Chornobyl'
But some artists and writers are working hard to preserve the memory of Chornobyl. This, they say, can help prevent such a tragedy happening again.
Three Czech photographers -- Antonin Kratochvil, Martin Wagner, and Vaclav Vazku -- have visited the radioactive zone to remind people what happened two decades ago. Their exhibition, "A Prayer For Chornobyl," opened recently in Prague.
Wagner spent almost three months in the restricted zone. He says it was especially shocking to visit Prypyat, 20 kilometers from the nuclear plant. Prypyat used to be called "a city of roses" -- now it is a ghost town. Trees and grass are growing on the streets and roofs of abandoned buildings. Some buildings are sinking into the ground.
Signs Of Life
But there are still reminders of life, Wagner says -- reminders that preserve the memory of the tragedy. Laundry hangs on balconies. Some houses still have pictures of family members on the walls.
"You walk into a kindergarten and see scattered toys, scattered dolls, and respirators between the dolls. In your mind you see those children who were there [at that time,]" Wagner says.
The restricted zone around Chornobyl is surrounded by barbed wire. People are not allowed to enter without official permission.
Many former residents still want to see the places they once lived, worked, or maybe were even born in. Some of those who used to live in Prypyat meet in the center of the town every year on the anniversary of the accident.
Other former residents choose to bury their dead in cemeteries inside the restricted zone, even though they now live far away.
The photographer Wagner says the restricted zone is a reminder of the fragility of human existence. The photographs, he says, seek to convey this idea: "Only in Chornobyl a human being can clearly understand that in fact he is temporary here [on the earth]. And Chornobyl shows that this span of time might be very short."
Even though there aren't many people living in the zone now, Wagner says for them it is "the best place on earth and the native river is the most beautiful in the world."
Chornobyl 20 Years After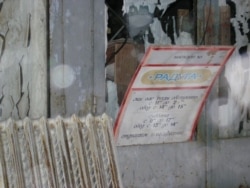 A sign in a store window in the abandoned town of Prypyat, Ukraine (RFE/RL)

A CONTINUING CATASTROPHE: Twenty years ago in the early hours of April 26, a chain of events began in Soviet Ukraine that was to unleash a catastrophe of unprecedented scale. At 1:23 a.m., a massive surge of power in Reactor No. 4 at the Chornobyl nuclear power station caused an explosion that lifted the 1,000-ton lid off the reactor's core. Within hours, a column of radioactive material some 1 kilometer high was drifting northwest across Europe that would leave traces across the Northern Hemisphere.
In Belarus and Ukraine, the accident left huge swathes of land deserted and radioactive. An area of 30 kilometers around Chornobyl was evacuated and is still abandoned. Hundreds of thousands of people, many of them volunteers, fought courageously to contain the damage.
Twenty years later, what lessons have been learned from the disaster, and what is being done to address the damage it did to the region? In a series of articles, RFE/RL looks at these and other issues on the 20th anniversary of the Chornobyl nuclear disaster.
Read The Stories:
What Lessons Have Been Learned?
Liquidators Recall Disaster, Speak Of Life After
Photographers Aim To Keep Memory Of Disaster Alive
A Nuclear Nightmare Becomes A Political Disaster
Greenpeace, Others Challenge IAEA Report On Disaster Consequences
The Catastrophe's Political Fallout
LOCAL COVERAGE: Click here to see RFE/RL's coverage of Chornobyl in Russian, Ukrainian, or Belarusian.

Click on the icon to view the slideshow