A UN report predicts some 4,000 additional cancer deaths because of Chornobyl. But in a new report, the international environmental watchdog says the health effects of the explosion may have been grossly underestimated.
Thomas Breuer, a nuclear expert with the international environmental group, said on April 18 that "the newest study, published this year by the Russian Academy of Sciences, arrives at a figure of 93,000 potential fatal victims as a result of the Chornobyl reactor disaster."
Greenpeace says many of the deaths could be caused by thyroid cancer, with most of the fatalities in Ukraine, Belarus, and Russia, the worst-affected countries.
Greenpeace says its report is based in part on research previously unpublished in the West. It emphasizes that it is impossible to know the final health impact of Chornobyl without further research.
The explosion at a reactor at the Chornobyl nuclear power plant in Ukraine on April 26, 1986, was the world's worst civilian nuclear accident. The UN says 56 deaths so far can be directly connected to Chornobyl.
The New Sarcophagus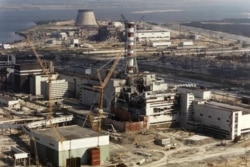 Repair work being carried out at the Chornobyl nuclear power plant in October 1986 (epa)
AT GROUND ZERO: The explosion and fire at Chernobyl's No. 4 reactor in April 1986 generated extensive spread of radioactive material and a large amount of radioactive waste at the plant site and in the surrounding area. Between May and November 1986, a temporary sarcophagus was built at the site with the goal of quickly reducing on-site radiation levels and the further release of radioactive materials into the environment.
The sarcophagus was erected quickly and under extremely difficult conditions, including the severe radiation exposure of construction workers. Because of efforts to complete the work quickly, imperfections were introduced in the structure. In addition, moisture-induced corrosion over the last 20 years has further degraded the construction. According to the International Atomic Energy Agency, "the main potential hazard of the shelter is a possible collapse of its top structures and release of radioactive dust into the environment."
Plans have been developed to create a new structure, called the New Safe Confinement (NSC), over the No. 4 reactor. The NSC is designed to have a 100-year service life, and to allow for the dismantlement of the current sarcophagus and the removal of highly radioactive fuel from the reactor. NSC construction was originally scheduled to be completed in 2005, but has been repeatedly postponed. According to the latest schedule, the work is expected to be finished in February 2008. Actual construction work is expected to begin in the summer of 2006. (RFE/RL)
Related Stories:
Activists, Experts Dispute UN Report On Chornobyl
New Report Says Chornobyl's Final Death Toll To Reach 4,000
Commemorating The Chornobyl Disaster 19 Years Later

Click on the icon to view the slideshow