Emergency Team Sent To Russia's Quake-Hit Far East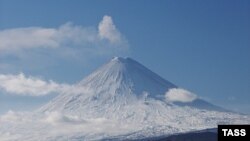 Kamchatka (file photo) (ITAR-TASS) April 21, 2004 -- Russian authorities are dispatching rescue workers and emergency supplies to a sparsely populated region in Russia's Far East that was hit by a major earthquake today.
The earthquake in the Koryak region had an estimated magnitude of 7.7 and was followed by several smaller tremors. It damaged buildings and knocked out telephone service in the region. However, no loss of life was reported.
The coastal village of Tilichiki, with a population of some 2,000 people, appeared to be the worst hit. The Emergency Situations Ministry said a total of about 12,000 people live in the area affected.
Emergency officials said helicopters were sent to the region to inspect the damage, and that some 300 rescue workers were dispatched to deliver tents, warm clothing, and heating devices and to restore communications.
(Interfax, ITAR-TASS)