Aide To North Ossetian President Under House Arrest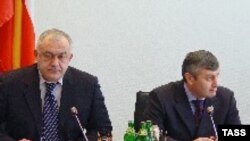 North Ossetian President Taimuraz Mamsurov (left) with Eduard Kokoity, the leader of the breakaway Georgian region of South Ossetia (file photo) (ITAR-TASS) April 21, 2006 -- A top Russian prosecutor says the presidential chief of staff in the southern republic of North Ossetia has been suspended and placed under house arrest pending a corruption probe.
Russia's Deputy Prosecutor-General Vladimir Kolesnikov said that Sergei Takoyev is suspected of embezzling more than 200 million rubles (about $7.3 million). Kolesnikov said that other regional officials -- including Finance Minister Konstantin Urtayev and Chermen Zangiyev, the former head of North Ossetia's tax administration -- are also being investigated.
North Ossetia's President Taimuraz Mamsurov last week said investigations into several of his aides were aimed at deflecting the public's attention away from the hostage tragedy at Beslan in September 2004.
North Ossetia's residents accuse Russia of mishandling the crisis, in which 330 people died after armed militants seized a school and took children, parents, and teachers hostage.
(ITAR-TASS, RIA Novosti)