While there is no "front-runner" for the nomination, four men stand out as possible candidates: Ali al-Adib, Jawad al-Maliki, Haydar al-Abadi, and Abd al-Falah al-Sudani, all members of the Islamic Al-Da'wah Party. Another possible candidate is independent Shi'ite politician Husayn al-Shahristani, presidential adviser Wirya Sa'id Rawanduzi told RFE/RL's Radio Free Iraq (RFI) on April 21.
Kurdistan Coalition member Mahmud Uthman told RFI on April 21 that al-Adib is the most acceptable candidate to the Kurds. Iraqi Accordance Front member Adnan al-Dulaymi told Al-Jazeera on April 21 that he believed al-Adib would be the United Iraqi Alliance's (UIA) nominee.
While al-Adib may be the most acceptable candidate to Sunnis and Kurds, many in the UIA appear to be leaning toward Jawad al-Maliki, a well-known politician and senior member of the Al-Da'wah Party, and a close aide to al-Ja'fari.
Perhaps most important is what candidate would be supported by Shi'a aligned with cleric Muqtada al-Sadr, as it was his supporters within the UIA that pushed through al-Ja'fari's nomination in February. London's "Al-Hayat" reported last week that al-Sadr loyalists would support the nomination of both al-Adib and al-Maliki should either be nominated.
Other Key Posts Nearly Decided
President Jalal Talabani told reporters at an April 20 press briefing in Baghdad that he expects political blocs to announce other key cabinet posts, including the president and parliament speaker, at the April 22 parliament session, RFI reported.
There is wide agreement that Talabani will remain president in the new government. Likewise, Adil Abd al-Mahdi, who narrowly lost the prime-ministerial nomination to al-Ja'fari in February, is likely to remain as a vice president. The other vice-presidential post is expected to be filled by a Sunni Arab. According to Adnan al-Dulaymi, the Iraqi Accordance Front has nominated Iraqi Islamic Party head Tariq al-Hashimi to the post.
Al-Hashimi had been nominated to the post of parliament speaker, but Shi'a and Kurds objected, allegedly because of al-Hashimi's former ties to the Ba'ath Party. Thus, it seems doubtful that he would be accepted as a nominee for vice president. Another possible Sunni Arab nominee to the post is al-Dulaymi of the Accordance Front. However, he denied he had been nominated to reporters at a press briefing in Baghdad on April 20.
Al-Dulaymi later told Al-Jazeera television that political blocs have agreed that the deputy speakers of parliament would be Mahmud al-Mashhadani of the Iraqi Accordance Front, Arif Tayfur of the Kurdistan Coalition, and Khalid al-Atiyah from the UIA, the news channel reported on April 21.
Al-Ja'fari 'Not Bitter'
Al-Ja'fari discussed his decision to give up the nomination in an address to the Iraqi people on Al-Iraqiyah state television on April 20. Saying he did not want to be an obstacle to the formation of the next government, he said, "I cannot accept to have my name associated with hindering the movement of a great goal, which represents the essence of the suffering of a people, aspirations of a nation, and the guidance of an authority."
Al-Ja'fari said he was not bitter and did not hold ill will toward political rivals who said one thing in public, and another thing in private. Referring to his rivals, he said, "Perhaps I failed to prevent them from throwing stones, but they have also failed to put me in a position of hostility."
Deputies Speak Out Against Al-Ja'fari Bid
Deputies Speak Out Against Al-Ja'fari Bid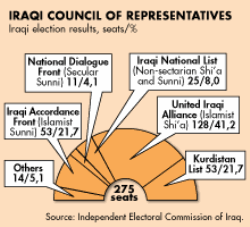 LOOKING FOR A NEW FACE: Two Iraqi parliament deputies on April 2 told RFE/RL's Radio Free Iraq (RFI) that they do not support the nomination of Prime Minister Ibrahim al-Ja'fari to retain his post. Disagreement over the nomination, among other things, has prevented Iraq from forming a government in the wake of legislative elections in December 2005.
"Our Kurdish friends and our friends in the Iraqi Accordance Front have insisted in new messages they sent three days ago on a refusal to deal with the nominee of the United Iraqi Alliance [al-Ja'fari]," said QASIM DAWUD, a parliamentary deputy and a member of the independent bloc within the United Iraqi Alliance. "But I must clearly say that I represent a very broad stream within the alliance that supports a policy [of choosing a nominee other than al-Ja'fari]...." (more)


THE COMPLETE PICTURE: Click on the icon for RFE/RL's complete coverage of events in Iraq and that country's ongoing transition.