Dhafir al-Ani, a spokesman for the Iraqi Accordance Front, said the bloc has informed Iraq's main Shi'ite alliance of its decision to reject al-Ja'fari.
The Kurdish alliance has also made a definitive decision to reject al-Ja'fari.
The Shi'ite United Iraqi Alliance (UIA) is due to hold internal talks on April 10 and to consult with Kurdish and Sunni parties on the al-Ja'fari issue, which has deadlocked the formation of a government of national unity. It is now four months since parliamentary elections.
A three-member Shi'ite committee has been formed to discuss the impasse.
Sunnis and Kurds blame al-Ja'fari for doing little to end sectarian violence between Sunnis and Shi'a.
(compiled from agency reports)

Sectarian Iraq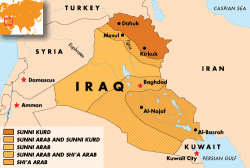 Click to enlarge the image.
SUNNI, SHI'A: Iraq is riven along sectarian lines, faults that frequently produce violent clashes and are a constant source of tension. Sectarian concerns drive much of Iraqi politics and are the main threat to the country's fragile security environment.


THE COMPLETE PICTURE: Click on the image to view RFE/RL's complete coverage of events in Iraq and that country's ongoing transition.