The integration process of ethnic-based regions into larger administrative territories and regions began in 2004, when residents of Perm Oblast and Komi-Permyak Autonomous Okrug voted in favor of merging their provinces into Perm Krai. This unification came into force on December 1, 2005.

The same year, the population of Krasnoyarsk Krai and the much smaller Evenk and Taimyr autonomous okrugs voted in favor of a similar union, which will come into being on January 1, 2007, and be called Krasnoyarsk Krai. Also in 2005, Kamchatka Oblast and Koryak Autonomous Okrug in the Russian Far East approved a referendum that will result in their merger as of January 1, 2007.
Economic Restructuring?
The official explanation for such restructuring of the Russian Federation is economic. The Kremlin explains its support for these endeavors by saying it is easier to manage larger administrative territories from the federal center.

However, there are many signs that political considerations are behind the merger efforts, and that the Kremlin's real goal is effectively to dissolve the troublesome ethnic republics in the North Caucasus and Volga region. The weekly "Argumenty i fakty" in April (No. 15) published a map showing a potential restructuring of all of Russia's regions that would merge ethnic autonomous republics into larger administrative entities. The article was entitled, "How To Dissolve Ethnic-Based Regions."

The plan discussed in the weekly was drafted by the Council for the Study of Productive Resources (SOPS), a little-known but quite influential think tank that works for the office of Russia's government and prime minister. According to the plan, the Russian Federation would comprise 28 federal subjects, instead of the current 88.
A Slimmed-Down Federation

The plan proposes the merger of all ethnic autonomous republics with neighboring Slavic administrative areas to form new provinces. It also suggests eliminating any reference to ethnicity in the names of the new provinces. In particular, the plan proposes to merge:

The Republic of Tatarstan with Ulyanovsk Oblast to create Volgo-Kama Province;
The Republic of Bashkortostan with Orenburg Oblast to create Yuzno-Ural Province;
The Republic of Udmurtia with Perm Krai to create Zapadno-Ural Province;
The republics of Mary El and Chavash with Kirov Oblast to create Volgo-Vyatka Province;
The Republic of Kalmykia with Astrakhan, Volgograd, and Rostov oblasts to create Volgo-Don Province;
The republics of Chechnya, Ingushetia, Daghestan, Kabardino-Balkaria, and North Ossetia with Stavropol Krai to create North Caucasus Province; and
The republics of Adygeya and Karachayevo-Cherkessia with Krasnodar Krai to create Prichenornormskaya Province.
Finally, the plan would abolish numerous autonomous ethnic regions in Siberia, the Urals, and northern Russia.
That the SOPS has formulated such a plan is not to be taken lightly. It was created in 1916, and for the past 90 years has systematically been involved in drafting major national projects both in Soviet and post-Soviet Russia. In particular, the SOPS was involved in elaborating the Bolshevik plan of electrification known as GOELRO; it also participated in the preparation of the Soviet five-year economic plans that later became part of Gosplan.
Back To The Past

More recently, the SOPS was behind the proposal in 1998 to divide Russia into seven federal districts, which was materialized by Putin in 2000. Today, the SOPS is working on further reshaping Russia' administrative composition.

The SOPS plan recently outlined in "Argumenty i fakty" harkens back to the administrative divisions that existed in Russia prior to the 1917 revolution. The idea to return to prerevolutionary Russia was first raised 15 years ago by the leader of Liberal Democratic Party of Russia (LDPR), Vladimir Zhirinovsky, who often speaks what Russia's ruling elite has in mind. Zhirinovsky referred at the time to the fact that Russia was divided into eight provinces under Peter the Great; into 40 under Catherine the Great; and into 56 just before the 1917 revolution. The current proposal to redefine the administrative configuration of the Russian Federation seems to have been initiated and backed by the Kremlin, and is definitely in line with Zhirinovsky's suggestion.

In practical terms, this proposal would mean that the 1993 Russian Constitution, which set up the current administrative division of the Russian Federation, would have to be revised. The supporters of a centralized, unitarian state have recently become more vocal and are demanding that the process be sped up.

Aleksei Mitrofanov, one of the LDPR's leading figures, was quoted as saying in "Argumenty i fakty," No. 15, that: "We should adopt a new constitution that includes a new administrative division. Otherwise, it will take some 50 years to dismantle, first [autonomous] districts, then, slowly, republics."

It is unclear, however, how realistic the Kremlin's attempts to eliminate national republics are. So far, Moscow has had mixed results. In 2003, for example, the Kremlin attempted to unify Irkustsk Oblast and the Ust-Ordinsky Buryatsk Autonomous Okrug into a new administrative body, but the governors of the two regions began squabbling over who would control major financial assets and the Kremlin subsequently backed away. It took three years and the replacement of Irkustsk Oblast's governor for the Kremlin to finally reach its goal.
Also, in March 2006 Moscow reportedly postponed an attempt to merge Adygeya Republic with Krasnodar Krai, after Adygeya President Khazret Sovmen resisted the idea. Dmitry Oreshkin, a senior expert with the Russian Academy of Science's Geography Institute told "Argumenty i fakty" that the Kremlin's merger efforts can only work in small ethnic entities. "But how can they dissolve a 5.5 million-inhabitant-strong Tatarstan?" he said. "Such attempts can only offend Tatars."

In turn, Rostislav Murzagulov, a close aide to Republic of Bashkortostan President Murtaza Rakhimov, told the weekly: "One needs to cool the hot heads demanding the abolishment of nations and the unification of everything."

The next few months should bring an answer to whether the Kremlin will listen to moderate voices calling for the maintenance of the status quo, or whether they will favor a return to dealing with the issue of nationalities through the prism of imperial Russia, when the country was not a federation, but a unitarian state administered by governors appointed by a tsar.
Russia's Changing Face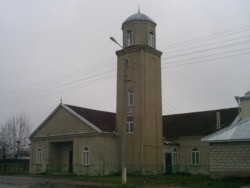 A mosque in Baksan, in the Russian Republic of Kabardino-Balkaria (RFE/RL)
THE COMING MUSLIM MAJORITY: On February 28, Russia expert PAUL GOBLE, vice dean of social sciences and humanities at Concordia-Audentes University in Tallinn, Estonia, gave a briefing at RFE/RL's Washington office. Goble said ethographers predict Russia will have a Muslim majority "within our lifetime." Since 1989, Russia's Muslim population has increased by 40 percent, Goble said, rising to some 25 million self-declared Muslims. He said 2.5 million to 3.5 million Muslims now live in Moscow, gving Moscow the largest Muslim population of any city in Europe. Russia today has more than 8,000 mosques, up from just 300 in 1991. By 2010, experts predict, some 40 percent of Russian military conscripts will be Muslims.
Goble noted that these changes have been accompanied by a "rising tide" of anti-Muslim prejudice. Public-opinion surveys reveal that up to "70 percent of ethnic Russians" express sympathy with xenophobic slogans. Goble warned that heavy-handed state efforts to "contain Islam" could backfire and cause groups to move underground, "radicalizing people who are not yet radicalized."
LISTEN
Listen to the entire briefing (about 85 minutes):
Real Audio
Windows Media
See also:
Muslims Oppose Bill To Add Chaplains To Army
Russia: Muslims Upset By State Symbols
Russia's Muslims Move Toward Greater Unity
Rights Groups Say Muslims Are Unfairly Targeted In Fight Against Terrorism
THE COMPLETE PICTURE: To view an archive of all of RFE/RL's coverage of Russia's North Caucasus, click here.

A thematic webpage devoted to issues of religious tolerance in RFE/RL's broadcast region and around the globe.