Iraqi President Jalal Talabani has asked Jawad al-Maliki to form Iraq's first full-term government.
Talabani's invitation marks a breakthrough in a four-month deadlock that had prevented a government from being formed since national elections were held, in December.
The stumbling block was removed when, on Apríl 20, acting Prime Minister Ibrahim al-Ja'fari withdrew his candidacy for a new term, following strong and sustained opposition from Sunni Arab and Kurdish minorities.
The predominantly Shi'ite United Iraqi Alliance, the largest bloc in the parliament, nominated al-Maliki as its candidate after al-Ja'fari's withdrawal.
Though al-Maliki is described as an ally of al-Ja'fari, Sunni Arab and Kurdish politicians have reportedly indicated they are likely to accept him.
The Iraqi parliament, which met on Apríl 21 for only the second time since the elections, is expected to debate who should serve as its speaker and who to appoint to the three-man presidential council before discussing al-Maliki's position.
Members of parliament had earlier elected Talabani, a Kurd, to a second term in office.
(compiled from agency reports)
Deputies Speak Out Against Al-Ja'fari Bid
Deputies Speak Out Against Al-Ja'fari Bid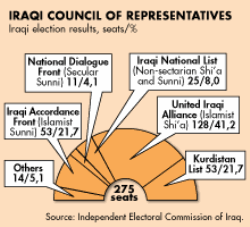 LOOKING FOR A NEW FACE: Two Iraqi parliament deputies on April 2 told RFE/RL's Radio Free Iraq (RFI) that they do not support the nomination of Prime Minister Ibrahim al-Ja'fari to retain his post. Disagreement over the nomination, among other things, has prevented Iraq from forming a government in the wake of legislative elections in December 2005.
"Our Kurdish friends and our friends in the Iraqi Accordance Front have insisted in new messages they sent three days ago on a refusal to deal with the nominee of the United Iraqi Alliance [al-Ja'fari]," said QASIM DAWUD, a parliamentary deputy and a member of the independent bloc within the United Iraqi Alliance. "But I must clearly say that I represent a very broad stream within the alliance that supports a policy [of choosing a nominee other than al-Ja'fari]...." (more)


THE COMPLETE PICTURE: Click on the icon for RFE/RL's complete coverage of events in Iraq and that country's ongoing transition.