In a news conference today in Tehran, Ahmadinejad said there is no proof that Iran is using its nuclear program for military purposes. He said that Iran is "a nuclear country" and has "the know-how of uranium enrichment," but he said Tehran will use it solely for "energy, medicine, agriculture, and industry."
He also said he believes sanctions against Iran are unlikely.
The UN Security Council has given Iran an April 28 deadline to suspend all uranium enrichment activities or face the possibility of sanctions.
Iranian officials have so far said they have no intention of complying with the deadline. Foreign Ministry spokesman Hamid Reza Assefi said on April 23 that Iran's uranium enrichment and research activities are "irreversible."
What The Street Thinks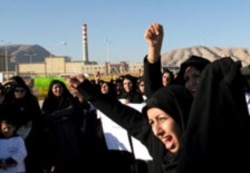 A demonstration in support of Iran's nuclear program outside the Isfahan uranium-conversion facility in Isfahan in January (epa)

IRANIANS SPEAK OUT ON THE DISPUTE: To find out more about what Iranians think about the international controversy over their country's nuclear program, RADIO FARDA asked listeners to express their views....(more)
See also:
Iran: Public Has Mixed Feelings On Nuclear Issue

THE COMPLETE PICTURE: RFE/RL's complete coverage of controversy surrounding Iran's nuclear program.
CHRONOLOGY
An annotated timeline of Iran's nuclear program.