PRAGUE, April 25, 2006 (RFE/RL) – U.S. Secretary of State Condoleezza Rice expressed her displeasure with Tehran's stance in remarks today in Athens.
"I think that what the Iranian statements do is to further Iran's isolation from the international community," she said. "Threatening the international community, that you will walk out of treaty obligations, that you'll throw the IAEA out because the world demands that you demonstrate that your nuclear programs are, indeed, peaceful and not on the way to a nuclear weapon, is very emblematic of the kind of Iranian behavior that we've seen over the past couple of years."
Iran's Defiance
The day before, Iranian President Mahmud Ahmadinejad said Tehran will consider withdrawing from the international Nuclear Nonproliferation Treaty (NPT) and the UN's International Atomic Energy Agency (IAEA) if membership produces no benefits for Iran.
"Our policy is the peaceful use of nuclear energy," he said on state television. "Our policy is to work within the framework of the NPT and the [International Atomic Energy] Agency. If we see that, in this framework, they are violating our right -- or they don't want to accept it -- then we will review [our policy]."
Ahmadinejad also denied Western allegations that Iran is secretly trying to create nuclear weapons.
Iran's top nuclear negotiator, Supreme National Security Council chief Ali Larijani, warned today that Tehran would halt all cooperation with the IAEA if the Security Council imposes sanctions, and warned it might go further and hide its nuclear program if the West takes other "harsh measures."
"I have clearly said that if you impose sanctions, Iran will suspend its relations with the IAEA," he said. "This is what you will get [by imposing sanctions]. Will it help this problem? If you are seeking to put Iran within the framework [of international law] because of its nuclear case, you should reach an agreement on this framework with Iran. You cannot design a framework for us by force."
Run-Up To IAEA Report
The Iranian remarks, and Washington's response today, reflect the growing war of words between the two sides in the run-up to the latest deadline in the Iranian nuclear crisis.
"Iran obviously is trying to at least convince people that it's
position is irreversible and that sanctions make no sense and that it
will act regardless." -- analyst

That deadline is April 28, when the IAEA is due to submit a report to the UN Security Council on whether Tehran has met the council's demands to suspend uranium enrichment and improve cooperation with arms inspectors. The council made those demands a month ago, when it gave Iran 30 days to meet them or face a further review.
Washington and London hope ultimately to see the Security Council take punitive measures against Iran, possibly including sanctions.
However, doing so means first convincing fellow permanent Security Council members Russia and China to abandon their insistence that the crisis be resolved only through negotiations with Tehran.
Anthony Cordesman, a security analyst with the Washington-based Center for Strategic and International Studies, says the latest statements from Tehran appear aimed at distancing Moscow and Beijing from the Western powers.
"Iran obviously is trying to at least convince people that it's position is irreversible and that sanctions make no sense and that it will act [enrich uranium] regardless," Cordesman says. "In which case it may feel that Russia and China will back away simply because they don't see any advantage in taking a strong attitude."
Matter Of Years, Not Months
But the analyst says that Washington and London remain convinced that they can bring greater international diplomatic and economic pressure against Iran as the crisis escalates.
Cordesman says that Washington views the contest in terms of years, not months, and believes time is on its side. "U.S. intelligence is talking about nuclear weapons after 2010," he says, "it's not something where immediate diplomatic or military action has to be decisive this month or with this meeting of the Security Council."
Rice said today that all the Security Council members agree that Iran is entitled to have a nuclear energy program but should not be allowed to develop nuclear weapons.
"The Iranian regime has said that it wants civil nuclear power. It can have civil nuclear power," she said. "But, no one, given Iran's past behavior, is prepared to allow Iran, under cover of a civil nuclear program, to acquire the technologies that could lead to a nuclear weapon."
After the IAEA submits its report to the Security Council on April 28, the council members will have to try to find a unified position on how far to increase pressure on Tehran at this time. The answer could be weeks of tough deliberations away.
(RFE/RL Washington correspondent Andrew F. Tully contributed to this report.)
What Would Sanctions Mean?
What Would Sanctions Mean?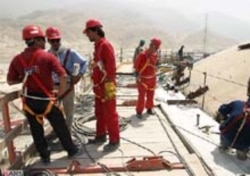 Economic sanctions could further undermine Iran's already shaky economy (Fars)


MOVING TOWARD SANCTIONS: If the United Nations Security Council imposes sanctions on Iran, domestic support for Iranian President Mahmud Ahmadinejad will wane, according to ALEX VATANKA, Eurasia editor for Jane's Information Group.
Vatanka told a February 24 RFE/RL briefing that "economic sanctions will hurt the average Iranian" and, consequently, many "will blame the ruling clerics" for making life difficult and "impairing the country's long term development."
Vatanka said sanctions would be a serious challenge to the Iranian government. If harsh economic sanctions were imposed, Iran's poorest population will be hurt the hardest -- and might react "as they did in the 1970s and protest in the streets." Sanctions on travel, Vatanka said, would hurt a many Iranians because "Iran is a nation of small traders" who depend on the ability to travel to earn an income. According to Vatanka, unemployment in Iran is estimated at 30 percent, "so small trading is essential to survival." Although current U.S. sanctions "haven't worked," he said, "Iranians fear an oil embargo." He stressed that "oil revenues are a major part of the economy, so it is critical to look at this sector."
Should negotiations with the European Union and the UN fail, Vatanka believes that Iran would follow a "North Korea model," since Ahmadinejad's base of support among the "Islamist militias" has been "urging withdrawal from the NPT [Nuclear Non-Proliferation Treaty]." The Iranian government's "tactic" so far, Vatanka said, is governed by the belief that "by shouting the loudest, you'll get concessions [from the West]."
LISTEN
Listen to the complete panel discussion (about 60 minutes):

Real Audio
Windows Media

THE COMPLETE STORY: RFE/RL's coverage of the controversy surrounding Iran's nuclear program.
CHRONOLOGY
An annotated timeline of Iran's nuclear program.