Belarus: Another March, But Some Earlier Protesters Still Paying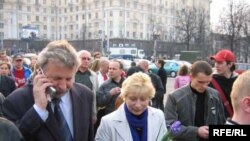 Opposition leader Alyaksandr Milinkevich (left) during the April 26 demonstration in Minsk (RFE/RL) Belarusians ostensibly assembled in Minsk today to commemorate Chornobyl -- but the rally had the added significance of being the first organized demonstration since the violent March 25 protests in the wake of the Belarus's presidential election.
PRAGUE, April 26, 2006 (RFE/RL) -- As Belarusians took to the streets today to participate in the annual Chornobyl Way march -- which serves as an annual opposition protest -- many opposition protesters continue to face repression for their participation in earlier rallies.
The authorities permitted the march, but imposed restrictions. The opposition had hoped to hold a rally on October Square, the site of the protests following the country's presidential poll in March. However, they received permission only to assemble there in preparation for the march.
They took to the streets knowing that authorities are continuing to discipline opposition figures. On April 25, a representative of united opposition candidate Alyaksandr Milinkevich was sentenced to 10 days in jail in the country's Homel region.
Others jailed after protesting President Alyaksandr Lukashenka's victory in the March 19 election remain in prison. Still others have encountered repressions after being freed.
Some Still Awaiting Charges
Ales Byalyatski is the head of the banned Belarusian human rights organization Vyasna (Spring). He says that more than 1,200 people were detained in the month spanning the election. He says most were imprisoned for 15 days before being released, others remain behind bars and face criminal charges.
Valeryya is a member of the Philology Faculty of Belarus State University who was detained for seven days for taking part in the opposition rally. She says the dean has warned her she might be expelled for her political sympathies.
"Probably at least some three-quarters of them -- some 75 percent -- are young people. The same can be said about those who are facing criminal charges. They are mainly young people," Byalyatski said.
Ina Kulay, who heads the Committee for Defending the Rights of Repressed Persons, says the 11 still in prison face severe punishment. Among them is a student, Artur Sinkevich, who faces a fine of $16,000 and a lengthy jail term on charges of being responsible for graffiti saying, "We want something new."
"The fine is so huge because they say he damaged public property and that public-utility services had to paint not just part of the building where the graffiti was written, but the whole facade. That's why the fine is huge, plus our laws allow for the punishment of a person [responsible] for graffiti with seven to 12 years [in prison,]" Kulay said.
Targeted For Political Activism
Life has become difficult even for those young people who have already been released. Byalyatski says some students were pressured to repent publicly for their political activism. He says some 20 students were expelled from universities.
"According to the information we have, some 20 people from this number [students who actively participated in the protests] were expelled from universities and we are trying to find ways [for them] to continue their studies abroad," Byatyatski said.
However, Kulay says that authorities appear to understand the message from Poland and other Western countries that expelled students will be offered the chance to study abroad. As a result, she says, the repression has taken a different shape.
"Now, the repressions continue but they have a hidden character," she said. "The list of those who are expelled is growing every day but the reasons [for expulsion] are made up -- for instance, [school] absenteeism or violating rules in hostels."
Many students who participated in the protests feel they are being targeted.
One student, who only gave her name as Irina, studies photography at Minsk State Technological College. She participated in demonstrations and was detained for 10 days at the end of March.
Irina says the authorities as her college told her they do not want politically unreliable students, and that sooner or later she will have to leave.
"For almost a week they pressured me to leave the university on my own will," she said. "Of course, I have refused to leave the university on my own will. Then they told me that I would be able to stay only until exams [were over] and would not be able to pass my yearly paper."
She says the attitude of professors and students toward her has also changed, and that her actions have been condemned publicly.
Another student, who gave her name only as Valeryya, is a member of the Philology Faculty of Belarus State University. She was detained for seven days for taking part in the opposition rally. Valeryya says the dean of the faculty has warned her she might be expelled for her political sympathies.
"I spoke with the dean and he told me if I participate in such events, I will be expelled," Valeryya said.
She says she feels that her situation is unstable as rumors spread that the university has been unofficially ordered by authorities to expel those who supported the opposition.
But she adds that she feels braver now and will resist efforts to punish her for her beliefs.
RFE/RL Belarus, Ukraine, And Moldova Report

SUBSCRIBE For weekly news and analysis on Belarus, Ukraine, and Moldova by e-mail,
subscribe to "RFE/RL Belarus, Ukraine, And Moldova Report."