Two Iraqi Militant Groups Claim They Bombed Convoy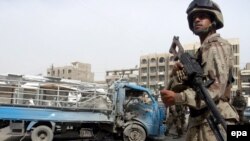 An Iraqi soldier stands guard near a damaged truck at the site of a road side bomb last week (epa) April 27, 2006 -- Two Iraqi militant groups have claimed responsibility for a bomb attack on a convoy --> http://www.rferl.org/featuresarticle/2006/04/5A7679B5-F823-42EA-853F-91B45664BFF6.html that killed three Italian soldiers and one Romanian today in the city of Al-Nassiriyah.
The groups -- the Islamic Army in Iraq and the Imam Hussein Brigades -- made the claims separately in statements on a web site. The authenticity could not be immediately verified. Both groups have claimed several attacks before.
In another incident today, unidentified gunmen killed the sister of Iraqi Vice President Tariq al-Hashimi in Baghdad.
Meysoun Hashemi's bodyguard was also gunned down in the ambush on their car.
Hashemi, a Sunni Arab, was appointed on April 22 in efforts to form a unity government. He is the head of the Iraqi Islamic Party.
One of Hashemi's brothers was killed earlier this month.
(Reuters, AFP)

SUBSCRIBE For weekly news and analysis on Iraq by e-mail,
subscribe to "RFE/RL Iraq Report."