PRAGUE, April 25, 2006 (RFE/RL) -- Since being designated prime minister on April 22, al-Maliki has endorsed many of the same objectives as the outgoing prime minister professed.
Speaking on April 23, al-Maliki said the Iraqi government, and not armed groups, should control the country.
"Arms should only be in the hands of the government," al-Maliki said. "There is a law that calls for the merging of militias with the armed forces on the basis that it does not forget its struggle against dictatorship. These militias are mentioned in the same law, and there are 11."
He has also said his government will "work on improving the capability and efficiency of the security forces to take over security."
And he called for national unity.
"We are going to form a family that will not be based on sectarian or ethnic backgrounds," he said.
A Reputation For Pragmatism
RFE/RL regional analyst Kathleen Ridolfo notes that al-Maliki and al-Ja'fari have much in common, including a lifetime of service to the same Shi'ite political organization, the Islamic Al-Da'wah Party. But she says there are important differences.
"Al-Maliki, a high-ranking official in the Islamic Al-Da'wah Party, was a close aide to al-Ja'fari," Ridolfo said. "The two men share many similarities, but, according to many who know him, al-Maliki is a tough pragmatist who can get the job done."
Where al-Ja'fari, a trained physician, was soft-spoken and rambling in his speeches, al-Maliki is said to be assertive and to stick to his opinions once he has formed them. He also is said to be more rational and willing to compromise than his predecessor.
However, al-Maliki has little previous experience in governance. His roles to date have included being one of the main drafters of the Iraqi constitution adopted last year, and taking a prominent part in the independent de-Ba'athification committee.
Some observers say that during his work on the constitution he forged good relationships with Kurdish parties. But his role on the de-Ba'athification committee is seen as controversial by Sunni leaders.
Sunnis dominated under the Ba'athists, and many Sunnis regard the committee's efforts to purge Ba'athists from the government as a ploy to marginalize the community politically.
Is National Unity Possible?
Ridolfo says those Sunni suspicions make it unclear whether al-Maliki can hold together the national-unity government he now is trying to form.
"Some Sunni leaders reportedly objected to al-Maliki's nomination, claiming he was too sectarian," Ridolfo said. "They later voiced support for him in exchange for Shi'ite support for their nomination of Mahmud al-Mashhadani, whom Shi'ites view as a hard-line Islamist, to the post of parliament speaker."
To secure Kurdish and Sunni support for al-Maliki as prime minister, the dominant Shi'ite alliance agreed to keep the current distribution of senior positions in Baghdad much the same as it was with al-Ja'fari.
Kurdish leader Jalal Talabani remains president of Iraq, while Sunni politician al-Mashhadani gets the post of parliamentary speaker.
Analysts say many of al-Maliki's political views will be controversial for either his Sunni or Kurdish partners in government.
Like outgoing al-Ja'fari, the prime minister-designate strongly backs Iraq's new federal status. He recently told the British daily 'The Guardian" that "the days of centralized rule are over."
Sunnis oppose Shi'ite efforts to extend federalism to include defining broad powers of self-rule for Shi'ite dominated areas of central and southern Iraq.
Like al-Ja'fari, the prime minister-designate is also an Islamist who may seek to advance Islamic values at the expense of secular ones. Kurdish parties strongly criticized al-Ja'fari on this account.
Al-Maliki's views were formed by a lifetime in exile. He fled Iraq in 1980 to escape a death sentence upon dissidents. He sought asylum first in Iran and later, along with al-Ja'fari, left for Syria when the original Dawa Party split into several factions.
In Damascus, al-Maliki published the mouthpiece magazine of the Islamic Al-Dawa Party. For several years, he also headed the military wing of the party that operated against Iraq's Ba'athist regime.
He returned to Iraq shortly before the U.S.-led invasion that overthrew Hussein in 2003.
Nuri al-Maliki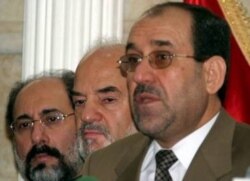 Nuri al-Maliki (epa)

NURI KAMIL AL-MALIKI (Jawad al-Maliki is a nom de guerre) was born in 1950 in the Twayrij al-Hindiyah district of Karbala.
Commonly known as Abu Isra, al-Maliki joined the Islamic Al-Da'wah Party in 1968.
He holds an M.A. in Koran and Arabic Language Studies from Salah al-Din University in Irbil.
Following a crackdown on outlawed parties by the regime of Saddam Hussien, al-Maliki fled the country in 1980, seeking asylum first in Iran and later in Syria.
While in Syria, he also published a magazine -- "Al-Mawqif" ("The Attitude") -- that became the mouthpiece of the Islamic Al-Da'wah Party.
For several years, al-Maliki served as the head of jihad and military operations for the party, subsequently becoming a member of its political bureau.
Following the liberation of Iraq, he served as deputy director of the de-Ba'athification commission established by the Coalition Provisional Authority.
In 2004, al-Maliki was elected deputy speaker of the interim National Assembly.
He played a leading role in settling the August 2004 crisis in Al-Najaf when supporters of Shi'ite cleric Muqtada al-Sadr battled coalition forces for three weeks.
In 2005, he served as chairman of the transitional National Assembly's Security and Defense Committee. He was also a member of the committe responsible for drafting Iraq's new constitution.
He has also served as a spokesman for transitional Prime Minister Ibrahim al-Ja'fari and as spokesman for the United Iraqi Alliance.
More about al-Maliki:
Premier-Designate Promises Tough Approach
Tough Challenges Face New Prime Minister


THE COMPLETE PICTURE: Click on the image to view RFE/RL's complete coverage of events in Iraq and that country's ongoing transition.