PRAGUE, April 26, 2006 (RFE/RL) – U.S. Secretary of Defense Donald Rumsfeld was the first to arrive, flying into Baghdad on a military cargo plane. He said Iraq's current efforts to form a new government represent a significant "milestone" for the country.
"We now are moving through another important milestone, the formation of a new government, a sovereign government of Iraq -- the first government that doesn't have a qualifier in front of [its name]," he said. "It is not a transitional government, it is not an interim government, it is not a Governing Council. It is a government -- a government of Iraq, and that is an important thing. This is a sovereign government, and they are making impressive progress."
Then, U.S. Secretary of State Condoleezza Rice arrived on a military plane from Turkey, taking time from her current tour of European countries. She said Iraq was at a "turning point," and that she would be urging Iraqi leaders to form a government free of divisive "sectarian" figures, but did not elaborate further.
Deadlock Broken
The twin visits come just days after Iraqi political parties finally ended months of wrangling by choosing Shi'ite politician Jawad al-Maliki on April 22 to form Iraq's first constitutional government. The wrangling had largely paralyzed Iraq's political process since the parliamentary elections on December 15.
Now it's time for the hard bargaining over cabinet posts, and Washington wants to press all sides to move quickly to complete the process and finally put a national-unity government in place.
Al-Maliki has expressed optimism he can assemble a cabinet quickly. He said on April 25 that he will need just two weeks for the job and will appoint ministers solely on merit.
Both U.S. and Iraqi officials for years have termed the formation of a constitutional and popularly elected government essential for marginalizing insurgents and restoring stability to the country.
Ending Sectarian Violence
The urgency for stability has only grown with the outbursts of communal violence that followed the bombing of a key Shi'ite shrine in Samarra in February. The bombing set off a wave of tit-for-tat killings between Shi'ite and Sunni militant groups that has taken hundreds of lives.
Many ordinary Iraqis say their priorities for the new government are to produce stability and economic growth.
"We hope they provide, first of all, security and stability, God willing, a resident of the northern city of Mosul told RFE/RL's Radio Free Iraq on April 25. "This should come at the forefront of the plans and programs [of the government]. Second, [they should] put an end to the deteriorating unemployment situation that Iraq is facing now."
Another Mosul resident seconded that opinion: "The country needs gas, oil, food, security, and solid housing appropriate for this great nation, which has sacrificed a lot."
Rumsfeld and Rice are expected to leave Baghdad today after meetings with Iraqi leaders, U.S. diplomats, and top U.S. military officials in Baghdad.
(Radio Free Iraq's Petr Kubalek contributed to this report.)
Nuri al-Maliki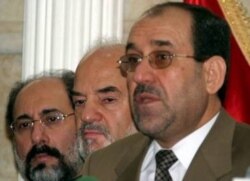 Nuri al-Maliki (epa)

NURI KAMIL AL-MALIKI (Jawad al-Maliki is a nom de guerre) was born in 1950 in the Twayrij al-Hindiyah district of Karbala.
Commonly known as Abu Isra, al-Maliki joined the Islamic Al-Da'wah Party in 1968.
He holds an M.A. in Koran and Arabic Language Studies from Salah al-Din University in Irbil.
Following a crackdown on outlawed parties by the regime of Saddam Hussien, al-Maliki fled the country in 1980, seeking asylum first in Iran and later in Syria.
While in Syria, he also published a magazine -- "Al-Mawqif" ("The Attitude") -- that became the mouthpiece of the Islamic Al-Da'wah Party.
For several years, al-Maliki served as the head of jihad and military operations for the party, subsequently becoming a member of its political bureau.
Following the liberation of Iraq, he served as deputy director of the de-Ba'athification commission established by the Coalition Provisional Authority.
In 2004, al-Maliki was elected deputy speaker of the interim National Assembly.
He played a leading role in settling the August 2004 crisis in Al-Najaf when supporters of Shi'ite cleric Muqtada al-Sadr battled coalition forces for three weeks.
In 2005, he served as chairman of the transitional National Assembly's Security and Defense Committee. He was also a member of the committe responsible for drafting Iraq's new constitution.
He has also served as a spokesman for transitional Prime Minister Ibrahim al-Ja'fari and as spokesman for the United Iraqi Alliance.
More about al-Maliki:
Premier-Designate Promises Tough Approach
Tough Challenges Face New Prime Minister


THE COMPLETE PICTURE: Click on the image to view RFE/RL's complete coverage of events in Iraq and that country's ongoing transition.