Lavrov said Russia "could not agree with or approve of" such moves.
After the talks with Lavrov, NATO Secretary-General Jaap de Hoop Scheffer said NATO and Russia were far apart on Belarus.
Russia maintains close political, economic, and military ties with Belarus.
The March 19 Belarusian presidential election, in which Lukashenka was reelected, was denounced as fraudulent by Western countries. The European Union imposed travel bans on senior Belarusian officials, including Lukashenka.
NATO has called for the immediate release of Belarusian opposition leader Alyaksandr Milinkevich, who was sentenced to 15 days in prison along with other opposition leaders after a protest rally on April 26.
(AP, dpa)
Minsk, March 25
THE AUTHORITIES GET TOUGH: RFE/RL's Belarus Service filed these images from the police action against the March 25 demonstration in Minsk. Photographs by Maks Kapran.
LISTEN
Listen to the sounds of the demonstration:
Real Audio Windows Media
Real Audio Windows Media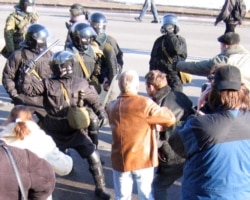 (RFE/RL)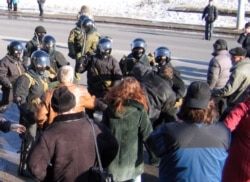 (RFE/RL)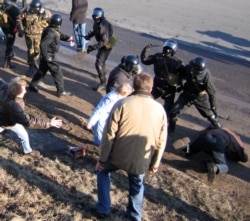 (RFE/RL)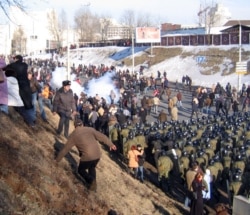 (RFE/RL)

THE COMPLETE PICTURE:
Click on the image to view a dedicated page with news, analysis, and background information about the Belarusian presidential ballot.


COVERAGE IN BELARUSIAN: Click on the image to view RFE/RL's coverage of the election campaign in Belarusian and to listen to RFE/RL's Belarusian Service.