U.S., Britain Seek Tough Diplomatic Action Against Iran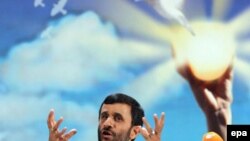 program – Iranian President Mahmud Ahmadinejad at a press conference in Tehran, 24 April 2006. (epa) April 29, 2006 -- The United States and Britain say they will seek tougher diplomatic action against Iran following a report by the United Nations' nuclear watchdog agency --> http://www.rferl.org/featuresarticle/2006/04/AE8F52F8-FCF8-4A38-8250-3EC31F7AB955.html saying Iran has ignored UN demands to halt uranium enrichment.
Iran yesterday vowed to continue its uranium enrichment efforts, and said it found nothing negative in the report from the UN International Atomic Energy Agency.
The United States and Britain said they will call on the UN Security Council to adopt a resolution that would legally require Iran to halt uranium enrichment activities to ensure that Tehran is not secretly developing a nuclear weapon.
"The diplomatic process is just beginning," U.S. President George W. Bush said. "We're forming a strong coalition of like-minded countries that believe that the Iranians should not have a nuclear weapon. And I've told the American people that diplomacy is my first choice. And it should be the first choice of every American president in order to solve a very difficult problem."
The U.S. State Department said the foreign ministers of the five permanent, veto-holding members of the Security Council -- the United States, Britain, France, Russia, and China -- plus Germany would meet May 9 to discuss the situation.
(compiled from agency reports)


SUBSCRIBE For regular news and analysis on Iran by e-mail,
subscribe to "RFE/RL Iran Report."