U.S. Seeks Last-Minute Solution In Darfur Peace Talks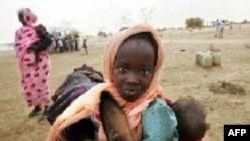 (AFP) May 1, 2006 -- The United States says it is sending a senior official to Africa in hope of securing last-minute agreement on a peace deal to end the conflict in Sudan's Darfur region.
The official is Deputy U.S. Secretary of State Robert Zoellick, who is heading for the Nigerian capital Abuja, where a peace conference is being held.
His trip comes after rebels from Darfur on April 30 rejected an African Union-brokered peace deal, saying "crucial demands" remain to be met. The Sudanese government says it is ready to sign.
Today, at U.S. urging, the African Union gave the rebels an additional 48 hours to sign the accord. But subsequent rebel comments appear to make chances of agreement dim.
(AFP, Reuters, AP)