PRAGUE, May 2, 2006 (RFE/RL) -- Like so many of his colleagues, Radio Free Iraq (RFI) Baghdad bureau chief Nabil al-Haidari has had close brushes with danger. In November 2005, a car bomb ripped into the downtown hotel that housed RFI's Baghdad office.
"Our former office of Radio Free Iraq in Baghdad was bombed," al-Haidari told RFE/RL. "It was really severely damaged and even now that office is not repaired yet to allow us to return back to it. We lost all our furniture, we lost the whole ceiling. Luckily -- we are so lucky -- the bombing was early in the morning before we arrived at the office that day."
Getting To Work Through A Mine Field
Journalists in Iraq can be killed randomly by roadside bombs or deliberately by assassins. And usually, the identities of those who planted the bomb or who ordered the killing are never discovered.
Al-Haidari -- who, like many journalists in Iraq, goes by a pseudonym -- says those facts make his day a dawn-to-dusk challenge of taking precautions while remaining focused on reporting.
"First when I leave my house, I have to check the street," al-Haidari said. "I have to be sure that there is nobody waiting to kill me or to kidnap me. After this checking, I begin my way to the office, whether I am driving or my driver, but it's funny to be always trying to find your way in the middle of the street, to be away from the side of the street, because most of the roadside bombs are put on the side during the night or in the very early morning."
Making Yourself A Target
Al-Haidari says that the most difficult thing for reporters in Iraq today is field reporting. Identifying oneself as a journalist in a crowded public place can be an invitation to an attack.
Many extremist groups regard journalists -- with their inquisitive natures and desire for social harmony -- as their natural enemies.
"When you are in the street and want to make any report, when you show your tape recorder or camera, in a way that will be the first sign that you are a target for somebody," al-Haidari said. "So, most correspondents are afraid to go to the market now or onto any ordinary street to make a story, especially when they are working alone. Most of the media, for example the television media, Iraqi or foreign, they use some guards to support the reporter and the camera operator and the driver. But for individual correspondents, like sometimes our journalists, it is really kind of dangerous."
He says that the public has grown so exhausted with daily violence and with journalists rushing to the scene that people in crowds on occasion attack reporters to vent their frustration.
It's A Jungle Out There
Murders occur daily but the culprits mostly remain unknown -- be they insurgents, members of extremist groups, or simply criminals:
"Sometimes I feel like Iraqi cities are like jungles now, because it is not only journalists who cannot answer who kidnapped or who killed whom, or who assassinated whom, even the politicians can't," al-Haidari said. "Today [April 27], we have the sister of the vice president, [Tariq] al-Hashimi -- his sister was killed in the morning. I am sure nobody will know the identity of her killer because this is not the first time, this is the 1,000th time it has happened."
The continuing instability in Iraq, says al-Haidari, has given rise to a professional class of killers that can be contracted by anyone with the money to pay them. The motives for the contract can be political, financial, or simply personal enmity. The killers are well-trained and reliable.
"The kidnappers and the killers are well-trained professional people," al-Haidari said. "I think mostly they were well trained in the forces of the Saddam [Hussein] period. At that time, he trained thousands of such people and nowadays I think they are a very professional class in this field, this market of killing, so many partners pay a lot for such kind of people to use them as a killer, paid killer."
Al-Haidari says one thing journalists sometimes find it hard to remember in such an environment is that all this is not a normal way to live.
"The strange thing is that here, day by day, we are becoming more flexible and adapting to this hard and bloody situation," he said.
World Press Freedom Day
NOT REALLY SO FUNNY:
The Paris-based World Association of Newspapers asked French cartoonist Michel Cambon to produce a series of cartoons on the theme of jailed journalists to mark World Press Freedom Day (May 3). Below, RFE/RL reproduces several of Cambon's cartoons.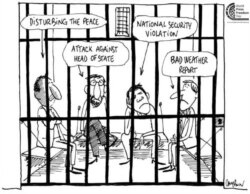 (WAN/Cambon)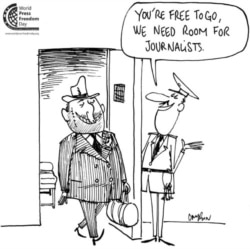 (WAN/Cambon)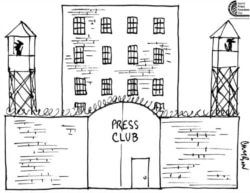 (WAN/Cambon)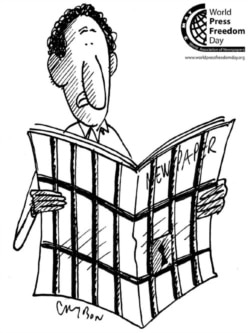 (WAN/Cambon)

RFE/RL's Press Freedom Day stories:
Iraq: Covering The Most Dangerous Beat On Earth
Afghanistan: Women In Journalism Battle Restrictions, Threats
Iran: State Maintains Tight Control Over Information
CIS: Press Freedom In Former Soviet Union Under Assault
Central Asia: Bureaucratic Obstacles Hinder Journalists
Central Asia: Governments Wary Of Independent Media
Central Asia: Journalists Still Face Harassment, Threats

ARCHIVE
To view an archive of RFE/RL's coverage of media-related stories, click here.
SUBSCRIBE
For regular news and analysis on media issues throughout RFE/RL's broadcast area by e-mail,
subscribe to "RFE/RL Media Matters."