Analysis: Will Armenian Parliament Speaker Quit Ruling Coalition?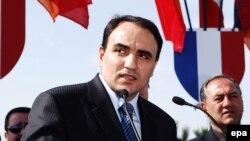 Artur Baghdasarian speaking in France last month (epa) Armenian parliament speaker Artur Baghdasarian has publicly distanced himself from one of the key tenets of the country's foreign and security policy -- nonmembership of NATO -- hinting that his Orinats Yerkir (OY, Law-Based State) party may even pull out of the government over the issue. But some analysts question whether Baghdasarian, who is widely regarded as populist and opportunistic, would risk doing so with 12 months to go before the 2007 parliamentary elections.
In an interview published in the daily "Frankfurter Allgemeine Zeitung" (FAZ) on April 19, Baghdasarian affirmed that while Armenia has good relations with Russia, "Armenia's future is the EU and NATO," and "Russia must not block our way to Europe."

The Armenian leadership is not averse to close cooperation with either NATO or the EU: Armenia finalized an Individual Partnership Action Plan with NATO in December 2005, and is a participant in the EU's European Neighborhood Policy. But it draws the line at formal membership in either organization. President Robert Kocharian and Defense Minister Serzh Sarkisian -- currently regarded as the most likely successor to Kocharian, whose second presidential terms expires in the spring of 2008 -- have both repeatedly said that close military cooperation with Russia is a more reliable guarantee of national security than NATO membership.
Presidential Response

Baghdasarian's statement incurred a swift and negative response from Kocharian, who told the independent Armenian daily "Golos Armenii" that "Armenia is not going to join NATO," and does not aspire to EU membership, Noyan Tapan reported on April 27. Kocharian stressed that according to the Armenian Constitution, the president determines the country's foreign policy, adding that he expects an "explanation" from Baghdasarian.
If Baghdasarian makes good on his threat to pull out of the government, he risks forfeiting the post of parliament speaker, together with the influence, opportunities, and media visibility it provides.


But Baghdasarian made clear on May 2 that he will pull Orinats Yerkir out of the three-party government coalition rather than retract his statement of support for eventual NATO and EU membership. At the same time, he stressed that he sees NATO membership as a long-term, rather than immediate, goal.
Coalition Partners Step Back

Representatives of the other two coalition parties immediately distanced themselves from Baghdasarian's statement. Galust Sahakian, who heads the parliament faction of Prime Minister Andranik Markarian's Republican Party of Armenia (HHK), told journalists that the other coalition members do not share what he termed Baghdasarian's "private view," Noyan Tapan reported. Vahan Hovannisian of the Armenian Revolutionary Federation--Dashnaktsutiun (HHD) said Baghdasarian should have consulted the National Security Council, of which he is a member, before publicly commenting on foreign and security policy.
A History Of Confrontation

Baghdasarian's unequivocal expression of support for NATO and EU membership was not the first issue on which he has crossed swords with the HHK. Last month, he voted against the report submitted by the government to parliament on the 2001-03 privatization program. And in early 2005, he engaged in a bitter war of words with Prime Minister Markarian, responding to Markarian's criticism of his unilateral decision to create additional parliament committees by accusing the HHK of corruption and mismanagement. Kocharian intervened on that occasion, downplaying the dispute and denying that he planned to dismiss Markarian.

And last December, Baghdasarian accused unspecified local officials of stuffing ballot boxes to boost the turnout figures in the November 29 referendum on a package of draft constitutional amendments.

Other remarks by Baghdasarian in his "FAZ" interview may equally have been directed against Markarian. Baghdasarian characterized Armenian politics as a fight between the younger generation and an older generation that is unable to break free from a Soviet mind-set. A directory of Armenian parliament deputies published in 1996 gave Baghdasarian's date of birth as December 1965, which would make him 40; the official biography released on his appointment in June 2003 as parliament speaker said he was born in December 1968. Markarian is 54; it would not, however, be entirely fair to brand him as an archetypal Soviet-era relic, given that he joined a dissident movement in the 1960s, for which he was sentenced to two years in a Soviet prison camp.

Baghdasarian also told the "FAZ" that he is in favor of "peaceful reforms," and that all those who oppose such reforms indirectly contribute to revolutions, which are "not the right way" to bring about change in the 21st century.
Baghdasarian's statement incurred a swift and negative response from Kocharian, who said "Armenia is not going to join NATO" and does not aspire to EU membership either. Kocharian added that he expects an "explanation" from Baghdasarian.
"We are fighting to ensure reforms continue, and for that to happen we need free elections in Armenia," he said. "The people who still believe that they can falsify elections must realize that those times in Armenia are past." He predicted that attempts to falsify the upcoming elections as blatantly as during previous ones would lead to "very great changes."
Pre-Election Positioning?

It is not clear, however, whether Baghdasarian's criticisms of the government to which his party belongs reflect a personal dislike of Markarian; whether he is simply hoping to capitalize on widespread popular dissatisfaction with the present leadership; or whether his expressed support for a pro-Western orientation was intended primarily to identify him in the minds of Western policymakers as a possible alternative to Sarkisian in the 2008 presidential ballot. Nor is it clear why he has risked defying Kocharian over the issue of NATO membership at this juncture, with 12 months to go before the next elections.

If Baghdasarian makes good on his threat to pull out of the government, he risks forfeiting the post of parliament speaker, together with the influence, opportunities, and media visibility it provides. Moreover, doing so could split his parliament faction, which currently numbers 22 deputies: the opposition daily "Haykakan zhamanak" noted on April 14 that only seven of those deputies voted with Baghdasarian to reject the government report on privatization.

On May 3, the same paper reported that the Armenian opposition has expressed support for Baghdasarian, and it predicted that Kocharian may retaliate by pressuring members of the OY parliament faction to defect. If that hypothesis is true, Baghdasarian may find himself forced into overt opposition sooner than he planned -- assuming he really does intend to break with the present leadership.